Hello everyone! It's me Jaren from
Diary of a Recipe Collector
. I'm here to share with you all a fabulous morning treat! Get ready for a burst of flavor in the morning when you try these wonderful Cranberry Orange Muffins made with orange juice! They are finished off with sprinkling sugar, and you will have trouble not going back for seconds!
Don't cranberries just make you so happy? They remind me of the wonderful upcoming holiday season from Thanksgiving to Christmas. These muffins make me think of that and how we can't wait for cold weather. My kids were just saying how they hope for snow again this year. Snow is always very rare down here in Louisiana, so we are crossing our fingers! So if we can't have snow, let's have some Cranberry Orange Muffins!
Ingredients:
2 cups flour
3 tsp. baking powder
1 cup sugar
1/2 tsp. salt
3/4 cup orange juice
zest of 1 small orange
1/3 cup butter, melted
1 egg
1 cup dried cranberries
sprinkling sugar (found with sprinkles)
Directions
Preheat oven to 350.
 Whisk flour, baking powder, sugar, and salt in a large bowl.
 Add orange juice, zest, butter, and egg. Whisk until just combined.
 Fold in cranberries.
 Spray a muffin tin with cooking spray.
 Fill muffin cups with batter until 2/3 full.
 Top each muffin with a sprinkle of sugar.
 Bake for 15 minutes or until golden brown.
 Let cool a few minutes and remove to a cooling rack to finish cooling.
Here are some other recipes you might enjoy: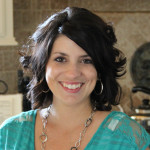 Connect with me: