Copycat Cosmic Brownies taste pretty darn close to the original treat. Little Debbie fans everywhere will be happy to know they can make these brownies in their own kitchen.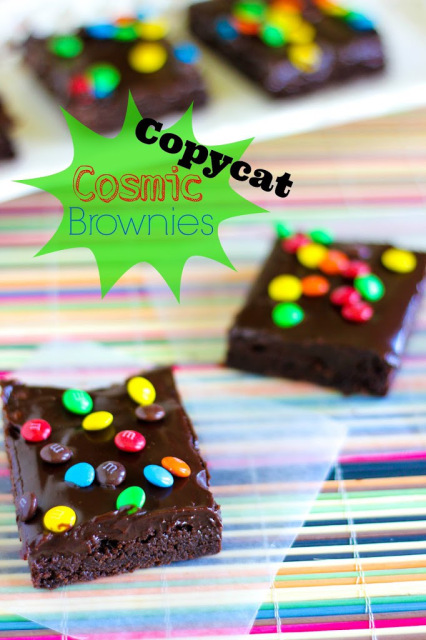 My kids love Little Debbie Cosmic Brownies. The ones with the little colorful candies on top. They always request them when we go grocery shopping. These copycat brownies are pretty spot on. I used Ghiradelli Natural Unsweetened cocoa powder. They had a darker chocolate flavor which was delicious, but next time I will try using regular cocoa powder and see how they turn out.
The ganache on top was so good. I recommend refrigerating these brownies and eating them cold. Plus it helps the ganache stay firm.
Try them and see what you think!
Copycat Cosmic Brownies
Ingredients
For the Brownies
¾ cup unsalted butter (1½ sticks), melted
2 large eggs
1 cup granulated sugar
⅔ cup light brown sugar, packed
2 tablespoons water
2 teaspoons vanilla extract
¾ cup unsweetened natural cocoa powder or dark cocoa powder (I used Ghiradelli)
¾ cup all-purpose flour
For the Ganache
1½ cups semi-sweet chocolate chips
½ cup half-and-half or cream
1 cup M&M minis (they're sold in small tubes and I used 1½ tubes; regular size M&Ms may be substituted)
Directions
Brownies:
Preheat oven to 350F. Line a 9x13-inch baking pan with aluminum foil, spray with cooking spray; set aside.
In a large, microwave safe bowl, melt the butter, about 90 seconds.
Add the eggs, sugars, water and vanilla; whisk to until well incorporated.
Add the cocoa powder and whisk well. Make sure there are no lumps and that it's and smooth.
Add the flour and stir until it's just barely mixed.
Pour batter out onto prepared pan, spreading lightly with a spatula.
Bake for 25 to 29 minutes, or until top has just set, isn't jiggly in the center and a toothpick inserted in the center comes out clean or with a few fudgy moist crumbs, but no batter. Allow brownies to cool completely in pan. While brownies cool, make the ganache.
For the Ganache
Put chocolate chips and cream in a medium, microwave-safe bowl and heat for 1 minute; whisk until smooth.
Pour ganache over mostly cooled brownies (after about 30 minutes is fine; they don't have to be completely cooled). Smooth ganache lightly with a spatula or offset knife.
Refrigerate until ganache is mostly set.
Evenly sprinkle with M&Ms. Cover pan with a sheet of foil and place pan in refrigerator until ganache sets up before slicing and serving, at least 2 hours. Do not slice into them until the ganache has set.
Notes
Brownies will keep airtight for 1 week at room temperature, for 2 weeks in the refrigerator, and for up to 6 months in the freezer.