Copycat Almond Roca tastes just like the real thing. It's a great treat to make for the goody table at Christmas.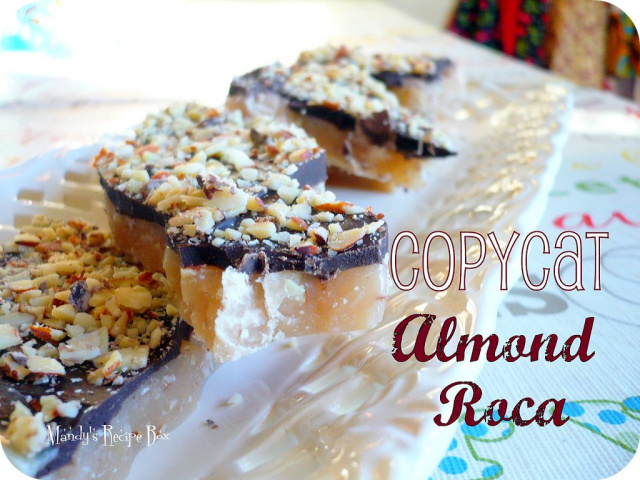 I have never made much candy come the holidays. I make baked goods, but not a lot of candy. I have made peanut brittle and peanut clusters and caramel, but that's about it. I wanted to find a recipe for toffee of some sort. So I did a search and came up with this Almond Roca recipe. Oh. goodness.
It tastes just like the real thing that you buy in the canister. It was so easy as well. So easy that I wasn't sure I did it right. That's it? I thought. Yup. So make loads of this and give it to your neighbors and co-workers. You'll be their favorite person.
Now this isn't break-your-tooth toffee. It's a softer hardness. Not caramel-y, don't get confused. It's hard, but a soft hard. Just make it and you'll get it.
Copycat Almond Roca
Ingredients
1 lb. butter (not margarine)
2 c. sugar
2 Tbsp. light corn syrup
6 Tbsp. water
1 c. finely chopped almonds
1 (11½ ounce) bag milk chocolate chips
Directions
Over Medium heat, melt butter in a large pot. Add corn syrup, water and sugar to pot and cook until temp reaches 290 degrees (about 15-20 minutes), stirring constantly with a wooden spoon (mixture will rise and bubble quite a bit).
Remove from heat and stir in ½ of the almonds.
Turn mixture onto a greased cookie sheet WITH EDGES! Allow to cool while melting chocolate.
Melt the chocolate over low heat until all the chips are gone and chocolate is smooth. Don't burn it. Pour the hot chocolate over the almond mixture and spread evenly. Sprinkle with remaining almonds and allow candy to cool completely and chocolate to harden. I put mine in the fridge overnight.
Break apart and serve.
Notes
I used a 9x13 dish. Don't do this. See how thick my candy is? Next time I will use a cookie sheet so it's thinner. If you want thick chunks, use the 9x13.