Cookies 'N Cream Brownies is such an easy recipe. Why did I never think of it before? Oreos in brownies can only be good. You could also substitute any other cookie you want. Nutter Butters, Mint Oreos, whatever you like. Completely delicious.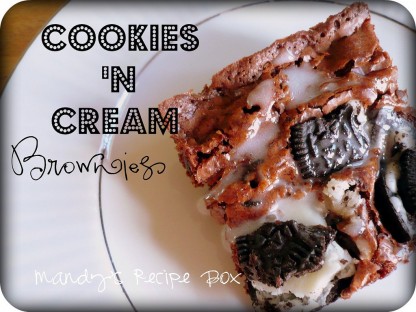 Putting Oreo cookies into anything basically makes it better. Like
cookies
, with
pudding
, or
cake
. They are seriously one of the greatest food inventions ever. If you disagree, you need to be checked out, because crazy.
Cookies 'N Cream Brownies
Ingredients
1 box Fudge Brownie Mix
¼ c. water
⅔ c. oil
2 eggs
10 Oreo Cookies, crushed
½ c. powdered sugar
2-4 Tbsp. milk
Directions
Stir together the brownie mix, water, oil, and eggs.
Pour into a greased 9x13 pan.
Sprinkle the crushed cookies over the top.
Bake at 350 degrees for 24-26 minutes until done.
Let cool completely.
Mix together the powdered sugar and milk to desired consistency and drizzle over the brownies. You could also use store bought vanilla frosting. Just nuke it in the microwave a few seconds until its drizzable (new word).