Coconut Peanut Chicken Satay Stir-Fry sounds fancy but it's really simple to prepare. That sauce brings it all home!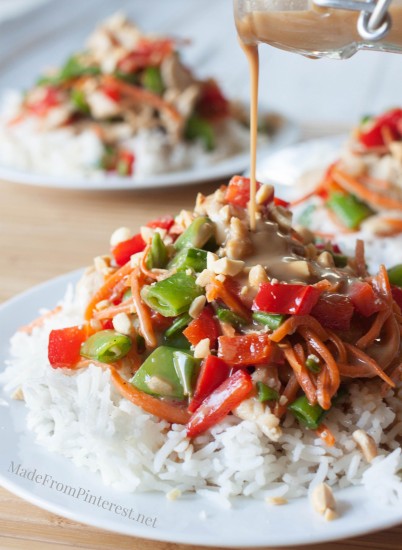 Hello Mandy's Recipe Box readers. At Made From Pinterest we are three sisters, in three different states keeping close by testing one great Pinterest pin at a time. Here is one that I just love!
Want to know how to get picky eaters to chow down healthy vegetables? You could try psychology. I hear it takes 25 introductions to new foods before kids will take to it. You could try making a game of it. We used to call broccoli "trees" and cauliflower "clouds". My daughter loved french fries when she was little (still does) and I got her to fall in love with green beans by feeding her canned yellow wax beans. I thought they looked similar to french fries. And who'da guessed it? So did she! That was a trick that worked. She would eat canned green beans straight out of the can after that. As a parent I tried all kinds of tricks to get our kids to eat healthy and learn to love veggies. Some parents claim kids will eat veggies if they have a hand in growing them. Having my kids help in the garden proved that one wrong for our family. All the labor for the produce actually gave them negative feelings toward it. And it looked different than grocery store produce. Which to them was ewww! Other parents say kids will eat their veggies if they had a hand in preparing it. Nope, that did not hold true for my kiddos. Betcha want to know my best trick of all to get them to eat their veggies. The foolproof method? There are two things you need to know. Here goes!
To get kids to eat their veggies, they need to look and taste good. We eat first with our eyes and most kids make a decision about taste before food ever gets into their mouth. I found that if the veggies looked yummy, they were more likely to eat them. But the real key is taste. Most of us don't like to eat veggies because they don't taste good. They are blah, bitter, or under seasoned. I found my kids were more likely to warm to the taste of veggies if they had something good to dip them in, or pour over them. Like ranch dressing. Or cheese.
This recipe for Coconut Peanut Chicken Satay Stir-Fry really kicks it up a notch by adding an ingredient to pour over the veggies that kids love. Peanut butter! The silky texture and flavor of this sauce gets picky eaters on board! With a hint of soy and honey, mellowed by canned coconut milk, this sauce will have you and your kids asking for more vegetables just to have more sauce. It is lick the plate clean good. In fact, the sauce is so good, we had to place boundaries around it. You simply cannot have more sauce unless there are vegetables to go with it! Bribery is a good trick too. And this sauce is a real motivator! I have been making this for years based on a
recipe from Rachel Ray
. I have been making it so long, I stopped following a recipe and just made it from memory. Somewhere along the way I made a few changes and didn't realize it until I read her version after seeing it on Pinterest recently. I'm gonna keep doing it my way… because this recipe rocks!
Coconut Peanut Chicken Satay Stir-Fry
Coconut Peanut Chicken Satay Stir-Fry
Ingredients
Stir-Fry
1½-1¾ pounds boneless, skinless chicken breast , sliced on an angle into bite-size pieces
3 cloves garlic, crushed
1 medium yellow onion, sliced
1 red bell pepper, seeded, quartered and sliced
1 cup store-bought shredded carrots or 2 medium carrots, cut into matchsticks
1 cup sugar snap peas (a couple of handfuls)
4 cups cooked rice
Sauce
6 rounded tablespoons chunky peanut butter
½ can of coconut milk (13.66 ounce)
3 tablespoons soy sauce
3 tablespoons honey
1 clove garlic, crushed
½ teaspoon crushed red pepper flakes
Garnish
chopped peanuts
Directions
Heat a large nonstick skillet over high heat. Add the chicken, garlic and onion and stir fry for 3 -5 minutes. Remove to a plate.
Add the remaining veggies to the skillet and stir fry for 5 minutes more. Combine veggies and chicken and warm through.
Heat all the ingredients for the sauce together in a small pot over low heat, stirring the sauce until all the ingredients are combined.
Place rice on a large platter, layer stir-fry over rice and pour the sauce evenly over the chicken and vegetables. Sprinkle the platter with the chopped peanuts to garnish.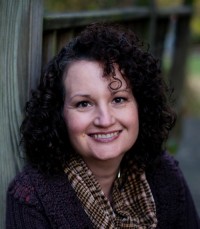 Click on these pictures for some more quick healthy recipes.
Hope your summer is happy and healthy. Thanks for having us for a "visit".