Hi everyone!  Renee here from Renee's Kitchen Adventures.  I'll be stopping in once a month to share a new recipe with you on Mandy's Recipe Box.  I'm super excited, because on Renee's Kitchen Adventures, I try to focus on diet friendly, lower calorie recipes…but that doesn't mean I don't love a good indulgent recipe now and again.  Mandy's Recipe Box is the perfect place for me to put my creative oven mitts on and start baking some decadent treats to share with you all!  You see, baking truly is my passion, even if it's not so good for my waistline!  But all things in moderation, right?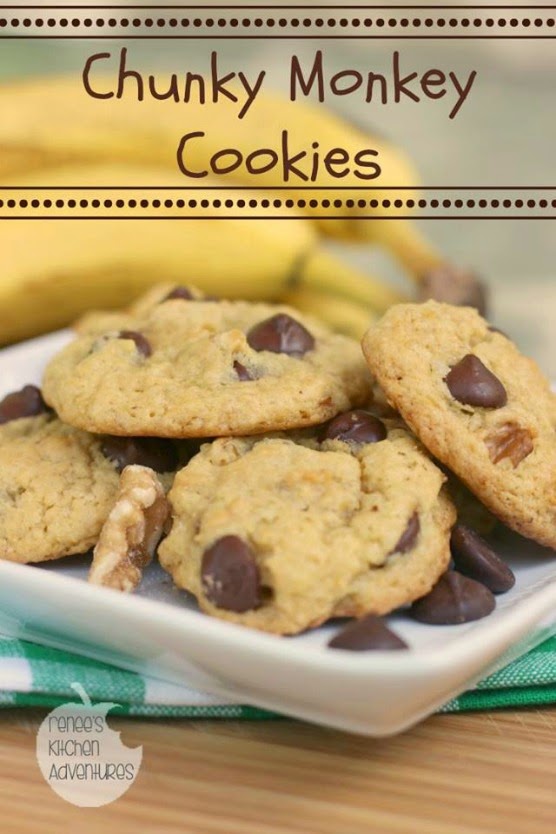 Today I've brought some yummy cookies.  Chunky Monkey Cookies are so easy because they start with a boxed cake mix that has been pimped up with some fresh banana, crunchy walnuts, and dark chocolate chips!
I used to be a little skeptical when it came to cookies from cake mix. You see, around here, I am sort of known for my homemade cookies.  How was it possible to get a good tasting cookie with the right texture from a cake mix?  But then I took the plunge a couple of years ago, and made my first cake mix cookie…White Chocolate Red Velvet Crinkles.  They turned out so well, I was sold.  Since then, I've made several cake mix cookies, each one better than the last, I think!  This recipe turned out great…it did not disappoint!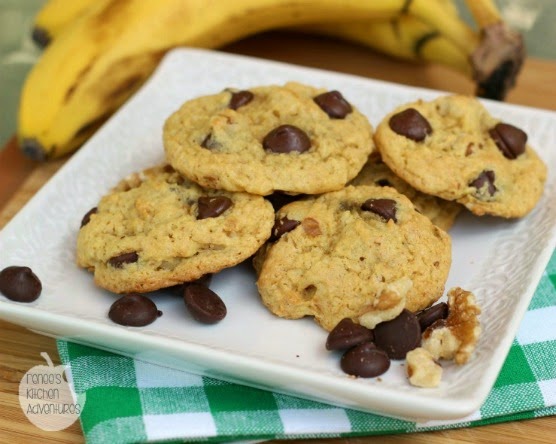 One word of caution though, DO NOT over-bake these cookies!  They will look a little under done when you take them out of the oven, but will firm up on the baking sheet.  Keep them covered to keep the cookie soft.  They will come out of the oven a little crispy on the edges, but once stored in a covered container, will be nice and soft.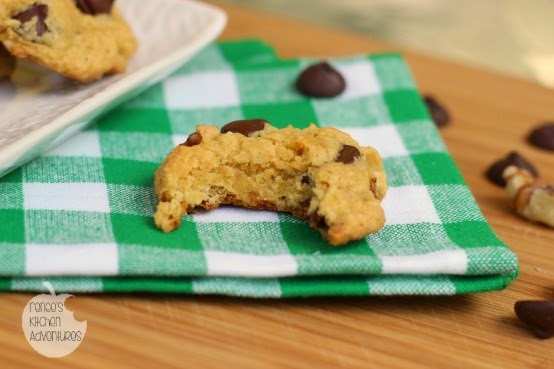 I hope you'll give this delicious cake mix cookie a try!  See you next month!
Follow me on all these social networks to stay updated on all my recipes:

Chunky Monkey Cookies
Renee's Kitchen Adventures
Inspired by Dark Chocolate Chip Cherry Cake Mix Cookies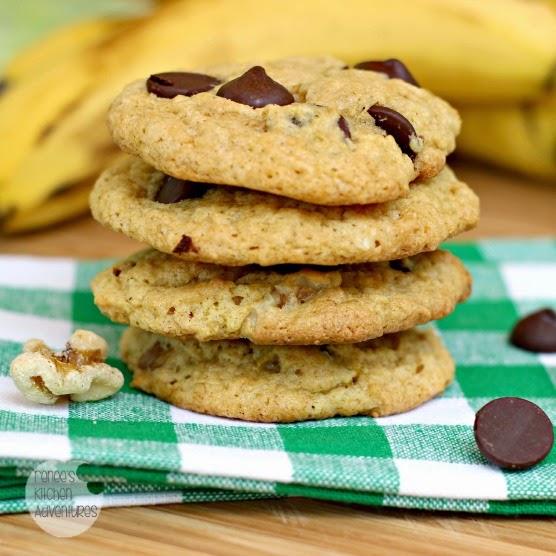 An easy cookie recipe that starts with a cake mix pimped up with fresh banana, crunchy walnuts and dark chocolate chips
Ingredients
One 16.5 oz. Banana Flavored Cake Mix ( I used Duncan Hines)
6 TBS unsalted butter, melted
1 ripe, medium sized banana, mashed
1 cup chopped walnuts
1 cup dark chocolate morsels
Instructions
Preheat oven to 350 degrees F. Line two baking sheets with parchment.
Combine cake mix, butter, and mashed banana by stirring until well combined.
Add in walnuts and dark chocolate morsels. Stir into the batter.
Drop by TBS (I used a small cookie scoop) onto prepared parchment lined baking sheets about 2″ apart. Bake for 10-12 minutes. DO NOT OVER BAKE! Cookies should look slightly underdone in the middles when you take them out of the oven.
Allow cookies to rest on baking sheet for 3-5 minutes before removing to a wire rack to cool completely.
Store in an airtight container to keep them soft.
Yield: approx. 3 dozen
Prep Time: 00 hrs. 10 mins.
Cook time: 00 hrs. 10 mins.
Total time: 20 mins.
Tags: cookies, cakemix, banana, walnut, chocolate, dessert
You might also like these cookie recipes!