This Christmas Mint Muddy Buddies recipe is a simple holiday snack that tastes great, and looks festive!  Sure to please a crowd.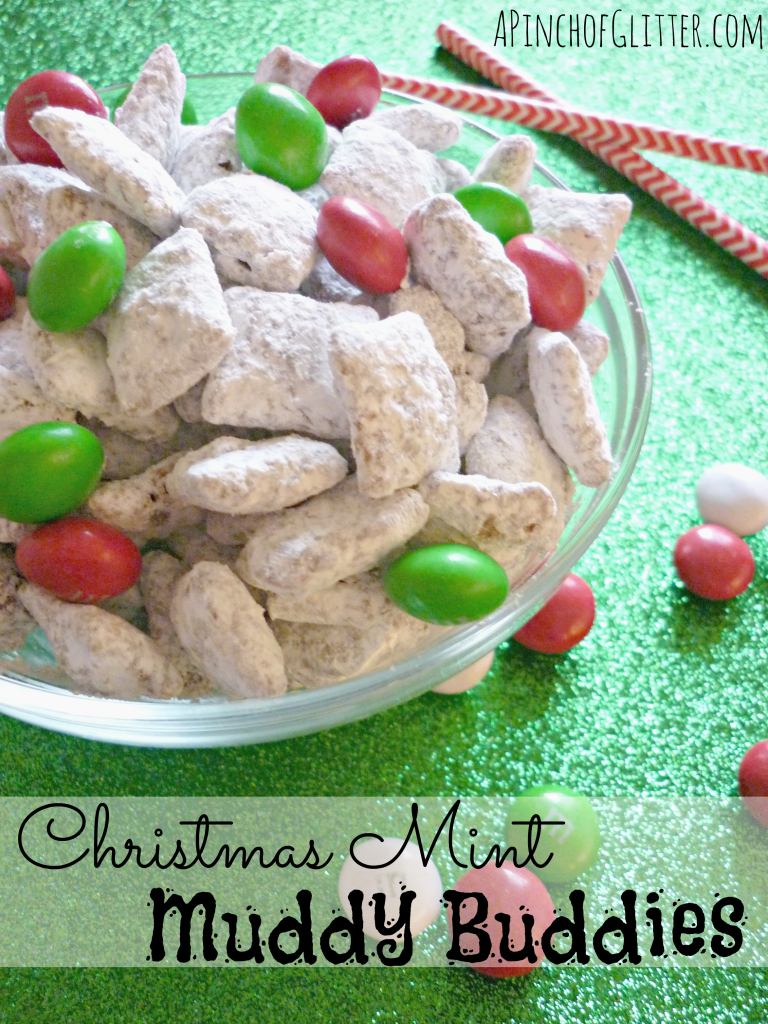 Hey everyone, it's Lori again from A Pinch of Glitter.
Do you think it's too early for Christmas stuff yet??  I'm usually the kind of person that insists on Thanksgiving being its own holiday before Christmas can even think about happening.
But this year is different.
And I can think of two reasons why.
First, I heard somewhere (I wish I remember where because they said it ten times better than I will be able to) that Thanksgiving and Christmas are two of the most perfect holidays for each other.  Shouldn't we exercise our gratitude all through the holiday season?  And shouldn't we have the life of Christ on our mind the whole season as well?  It's not about separating turkeys from Christmas trees, it's about the spirit of the season.
Second, I've been waiting for the Christmas season since APRIL!  Back in April, I found out that I'm pregnant, and my due date is only 5 days before Christmas!  I remember very vividly, back in the heat of July, thinking I was going to die from all the heat, that I had to wait until it snowed before I had my baby!  The idea of snow happening at that point seemed absolutely foreign, and made it seem like it would be even longer before the baby would be here.
Well, now the first snow has come and gone, and I'm SO close to having my little one!  Now I just have to wait for it to get closer to Christmas for my little present to arrive.  Because I've been so anxious for the holidays to be here, I'm embracing every bit of it because now everything finally seems so real.
I've even been listening to Christmas music in the car, while I clean my house, and even right now as I'm writing this post.  I'm obsessed!
I couldn't help but to start baking for the holidays, too.  My husband has been wanting lots of snacks lately, so I thought a Christmas snack would be perfect.  Muddy Buddies are a favorite in our house, so I twisted them just a bit to make them a little more festive!
And I'm so glad I made this – it's definitely one of my new favorites, and I'm sure it will be on the list every year of Christmas treats to make 🙂