Choose Your Flavor Cake is one of the best cakes you make because you can make it into any flavor. It doesn't even need frosting!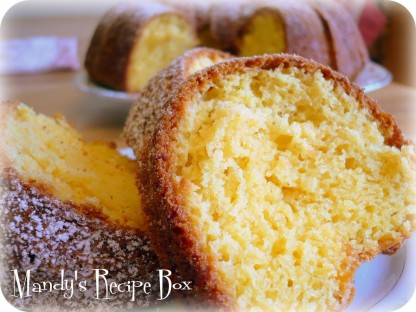 My sister-in-law brought this cake to dinner one day and I love it. It is more like a quick bread/cake. And the best part is that you can choose how you want it to taste. You just pick your cake mix and a pudding mix and there you go. You can simply dust it with powdered sugar and be done or drizzle it with a glaze that matches. Lemon glaze, chocolate glaze, vanilla glaze, and on and on.
Choose Your Flavor Cake
Ingredients
1 box of cake mix of your choice (I used yellow)
1 pkg. instant pudding of your choice (I used lemon)
¾ c. water
4 eggs
¼ c. oil
powdered sugar for dusting
Directions
Mix all together and pour into a greased bundt pan.
Bake at 350 degrees for 45-50 minutes.
Let cool in pan 5 minutes then turn out onto wire rack to finish cooling.
Dust with powdered sugar and serve.
Notes
You can sprinkle with powdered sugar, or drizzle a glaze that matches your cake flavor over the top. Another yummy trick is to sprinkle the bottom of the bundt pan with cinnamon sugar before adding the batter.