Poke cakes are a bit favorite around the internet and this Chocolate Pumpkin Poke Cake is just awesome! Chocolate cake, dark chocolate ganache and pumpkin spice whipped topping… grab a plate!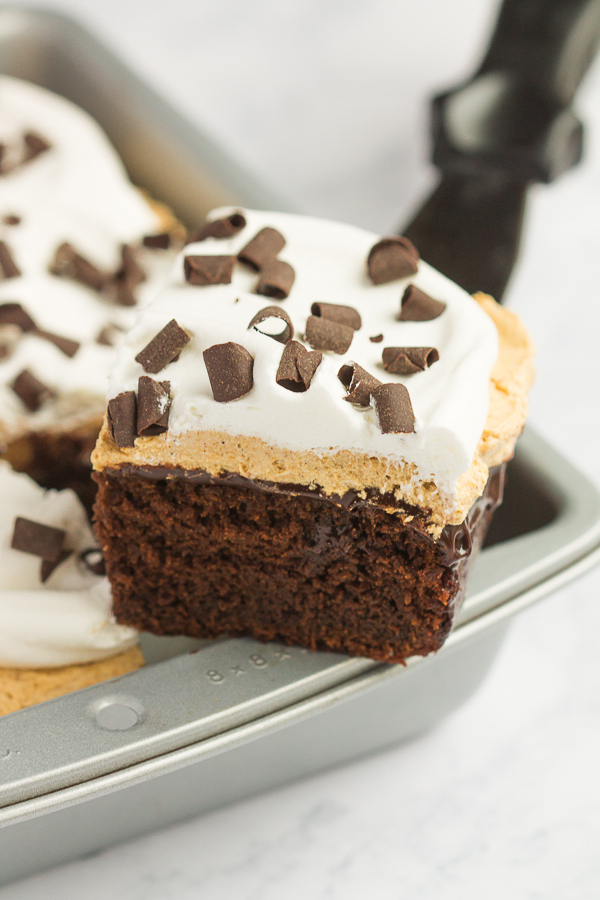 Hi, my name is Amanda and I'm a new contributor here on Mandy's Recipe Box! Usually I blog over at Yummy Treats + Healthy Eats. I have a serious passion for healthy living (diet+exercise), but I also have a massive sweet tooth and I love to bake. My blog is the place where both loves collide. I'm really excited to share some of my favorite treats and healthy meal ideas here with you on Mandy's Recipe Box once each month.
I used to love all things pumpkin, but after having baby #2 a year ago I've noticed that my taste in food has changed a lot. This year I've come to the realization that I really only love pumpkin if it's paired with chocolate.
Because, hello… CHOCOLATE. I'm a chocolate lover, and I'm hoping you are too.
I'm also a poke cake lover, and this poke cake is my new favorite. The chocolate cake is made from scratch and it's so yummy and ultra moist. Then you top the cake with a decadent homemade ganache, a semi-homemade pumpkin spice whipped topping, cool whip, chocolate curls, and to finish it's drizzled with chocolate syrup.
Making a cake from scratch can seem intimidating, but I promise it's easier than you might think! I really don't have a problem with cake mix at all by the way. We just have a small family of four, so I really only wanted to make an 8×8 pan of cake (because even that is more than enough for us), and cake mixes generally make a 9×13 size cake. I experimented with ways to half a cake mix for this recipe, but in the end I came to the conclusion that a cake mix is best when you need the whole thing, and I'll just leave it at that.
The cool thing about this cake though is that if you do want a bigger batch and/or you don't want to make a cake from scratch, you can totally make your favorite chocolate cake mix according to the directions on the back of the package and bake it up in a 9×13″ pan. Then, double the ingredients for the chocolate ganache and the pumpkin spice whipped topping, and follow the directions for assembling the poke cake once the cake base is cool. It'll be just as good, and just slightly easier since you're using a cake mix.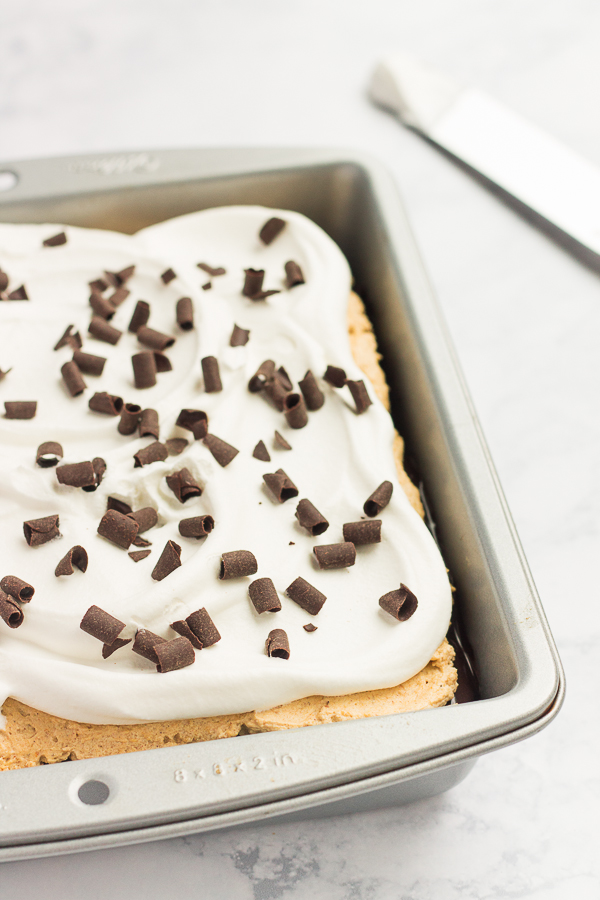 So to review: moist and chocolate-y cake poked with large holes, then drizzled with a dark chocolate ganache and topped with pumpkin spice whipped topping, more whipped topping, chocolate curls, and chocolate syrup. It's decadent and totally divine and you should all make it ASAP.
See you next month. Comment below with a vote if you want to see "something healthy" or "something sweet" when I drop by again in November!