Hello Mandy's Recipe Box readers!  I'm Lori from
A Pinch of Glitter
.  At my blog you'll be able to find lots of yummy recipes, a few crafts every now and then, and just
a pinch of glitter
.  Glitter is one of my favorite things, and I believe that it makes life a little better than it is without – and that's what I try to bring to you as a reader.  I hope you will stop by sometime!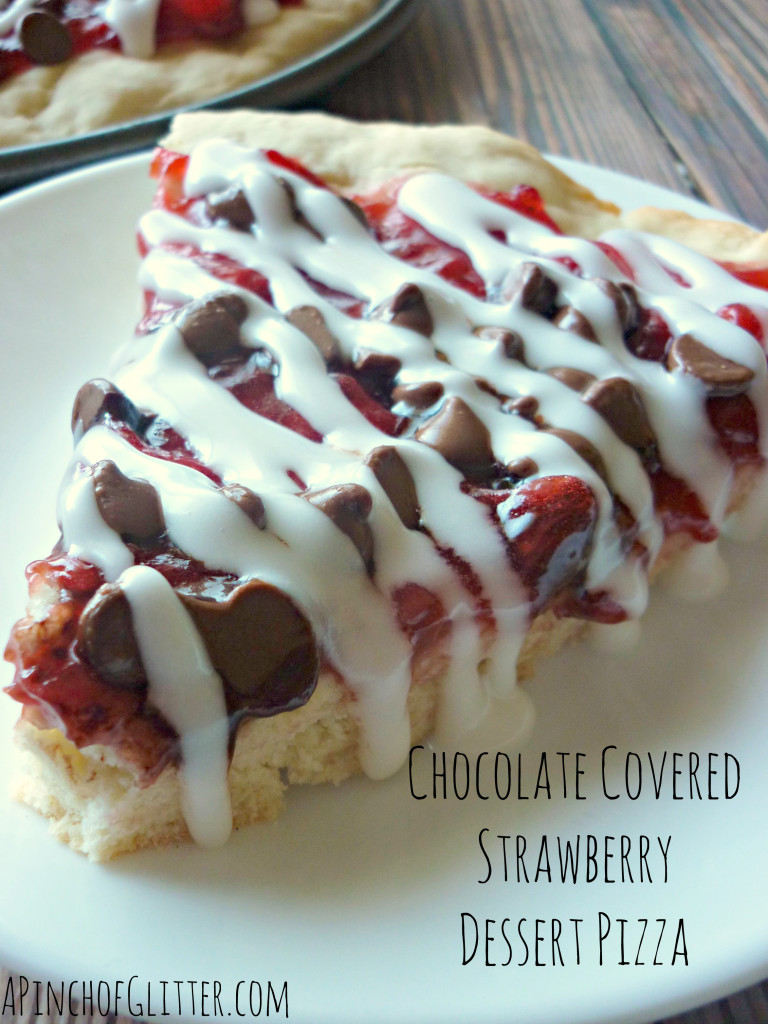 In my area, we have a pizza buffet that is all the rage (especially with the local college students).  At this buffet, they have an assortment of salad makings, fresh-made pasta and sauces, and, of course, lots of pizza!  Yeah, they have the usual pepperoni, and combination pizzas and such, but what they are really famous for are their unique pizza toppings.  They have a mac n' cheese pizza, a hillbilly pizza, and even a spud pizza.  Not to mention, every month they come up with a new flavor creation to feature.   Sounds amazing, right!?   I could eat my heart out there.  Easily.
Then, just when I think I'm done, I realize that I still have dessert to go.  Once that realizations occurs, it seems that I magically grow a new stomach and have room for at least a couple samples from the dessert bar.  Their dessert pizzas are just as original as their other pizzas – you'll never be bored.   The other night I made pizza for me and my husband, and I happened to have some leftover dough.  Usually I will just make an extra pizza when this happens, but this time I thought I would try a dessert.  I grabbed some ingredients I already had in the pantry and came up with this delicious creation!  I was shocked at how (amazingly) good it was!  This dessert pizza will definitely become a regular on our family pizza night menu.
Ingredients
1 can refrigerated pizza dough (such as Pillsbury), OR your favorite homemade pizza dough
2 Tbs. butter, melted 1 to 1-1/4 cups
Strawberry Pie filling (recipe
HERE
)
1/2 cup chocolate chips
1 cup powdered sugar
2 Tbs. milk
1/2 tsp. vanilla
1/2 tsp. almond extract
Directions
1. Lay pizza dough on a cookie sheet or pizza pan. Brush butter over dough, and bake for 10-15 minutes at 350 (about 10 minutes short of total required cooking time).
2. Remove pizza crust from oven and spread pie filling on top.  Sprinkle chocolate chips over pie filling.
3. Return to oven and continue cooking until chocolate is slightly melted, and edges of pizza are lightly browned – about 5 or 10 minutes.
4. Meanwhile, whisk together powdered sugar, milk, vanilla, and almond extract until smooth.
5. When pizza is done, allow to cool slightly, and drizzle with glaze immediately before serving.  Enjoy!