I saw a recipe like this on the internet somewhere and had to make it. It is the best of two desserts: chocolate chip cookies and brownies. Together. In one dessert. Life is good. All you need is your favorite brownie recipe (or box, in my case) and favorite chocolate chip cookie recipe (Nestle's is my choice). And away we go…
1 box of your favorite brownie mix (or your favorite recipe)
Your favorite chocolate chip cookie recipe. I love Nestle Tollhouse so here is that recipe in case you don't have it:
2 1/4 cups all-purpose flour
1 cup (2 sticks) butter, softened
3/4 cup packed brown sugar
1 teaspoon vanilla extract
2 cups (12-oz. pkg.) NESTLÉ® TOLL HOUSE® Semi-Sweet Chocolate Morsels
1 cup chopped nuts (optional)
Make the brownie batter according to its directions. Spread into a greased 9×13 baking dish.
Prepare the cookie dough: Combine flour, baking soda and salt in small bowl.
Beat butter, granulated sugar, brown sugar and vanilla extract in large mixer bowl until creamy.
Add eggs, one at a time, beating well after each addition.
Gradually beat in flour mixture.
Stir in morsels and nuts.
Plop spoonfuls here and there on top of the brownie batter.

Bake at 350 for 20-30 minutes until brownie is set and cookie dough is done. Watch the cookie dough doesn't get over baked.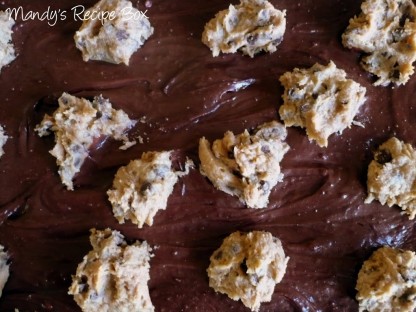 I always want to stop here. But I suppose we better move on. Sigh.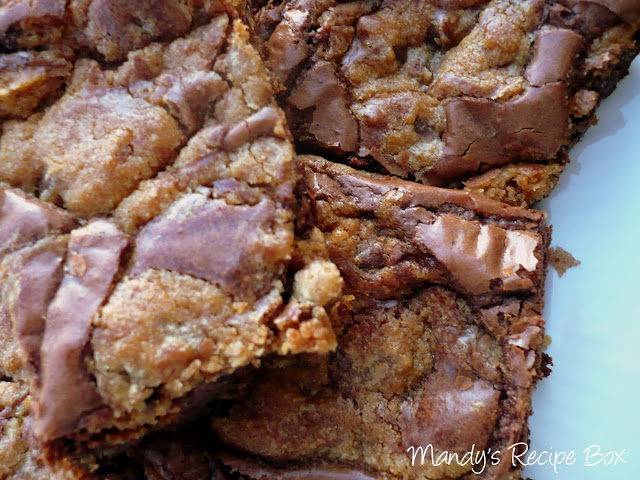 These would be so good with vanilla ice cream and hot fudge drizzled on top!