Chocolate Cake Donuts are a great donut to make for your first time. They are very easy and really can't be messed up. Top with frosting and sprinkles and everything is right in the world.
I go on kicks of things I like and eat them all the time. Then I go on another kick and eat that. Like donuts. Or doughnuts. Whatever. This isn't a spelling class, it's a food blog. Ok, actually doughnuts are the original fried dough version. Please don't get mad and send me emails about the subject. Cake donuts are still a thing. I love all kinds but will eat Apple Fritters for a while then move on to custard filled and then to crullers. Now just so happens to be my cake donut phase. Specifically chocolate cake donuts with chocolate frosting. That is my go-to treat if I get one at the bakery in my grocery store.
 I decided I needed to make them at home. Especially since I received a donut pan for Christmas from my husband and kids. They turned out great! And they are healthier than the kind in the store, fo'sho'. I know everyone is all big on eating healthy right now, myself included. BUT. I need treats. 
 I like to make my own desserts and control what I put in them. Like
Coconut Sugar
. Definitely the way to go. When you bake with it, it tastes just like regular sugar was used. I found it at Walmart to try, but Amazon has it, too. So excuse me while I have a treat.
I'm just not gonna eat them all. Maybe.
Chocolate Cake Donuts
Ingredients
1 C. flour
¼ C. + 2 Tbsp. coconut sugar (or granulated)
¼ C. unsweetened cocoa powder
½ tsp. baking powder
½ tsp. baking soda
½ tsp. salt
¼ C. + 3 Tbsp. milk
1 egg
½ tsp. vanilla bean paste or ½ tsp. vanilla extract
1 Tbsp. butter, melted
your favorite chocolate frosting recipe
Directions
Preheat the oven to 325 degrees F.
Spray a donut pan with cooking spray. You can find them on Amazon, this link is for 2 pans, but you can choose the option of 1 pan.
Mix together the dry ingredients.
Add the milk, egg, vanilla and butter; mix until smooth.
Divide the batter among the donut cavities.
Bake 12-14 minutes until done.
Cool for 1 minute in the pan and then turn donuts out onto a wire rack to finish cooling.
Dip the tops of donuts into your favorite frosting and top with sprinkles if desired.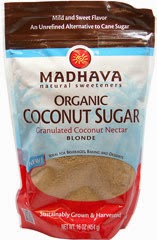 This is the coconut sugar I used. This is not sponsored, I just love it. There are so many benefits to it. It has a low glycemic index and is a safe alternative for diabetics. It's a real thing, not a fake substitute for sugar.