Chile Relleno Casserole & Sour Cream Rice make for a comforting meal any time of the year.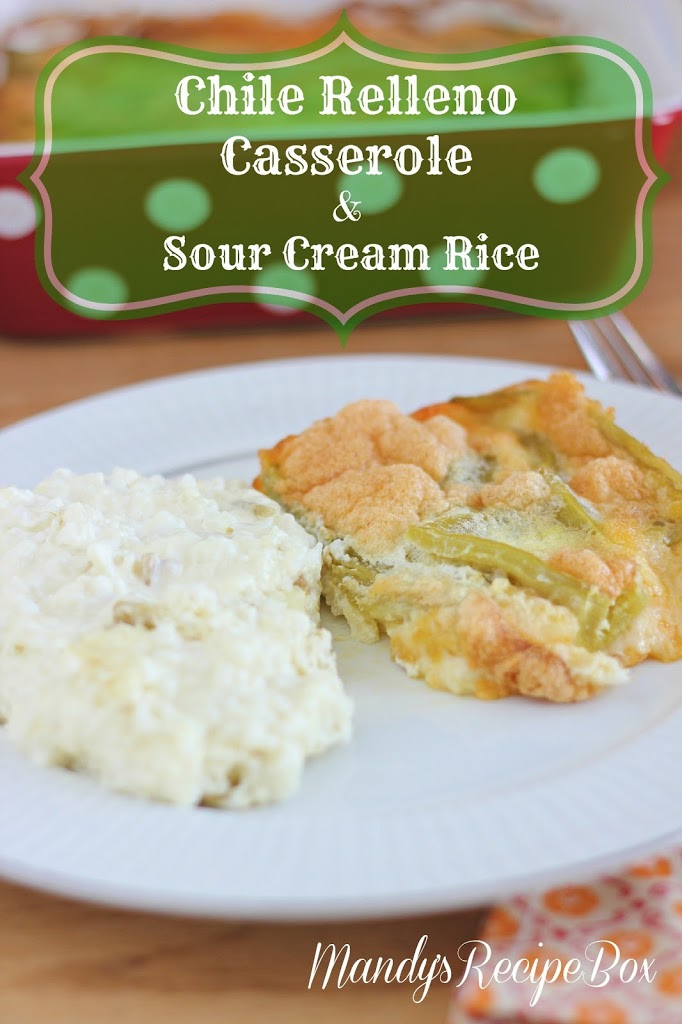 I hope you guys have been enjoying my guest bloggers. I know I have! It's been so nice to just spend time with my new little guy and our family. It is such an adjustment having a newborn again. Isaac does really well at night which is such a great thing for me. He only gets up twice to eat at night and the rest of the time he is so good. But lately he wants to be held. Alot. Which I am fine with. Except it makes it hard to do anything else like shower or eat. Lance was home for 2 1/2 weeks and had to leave this past Sunday back to Wyoming. It was so nice and I am sure missing him and his help.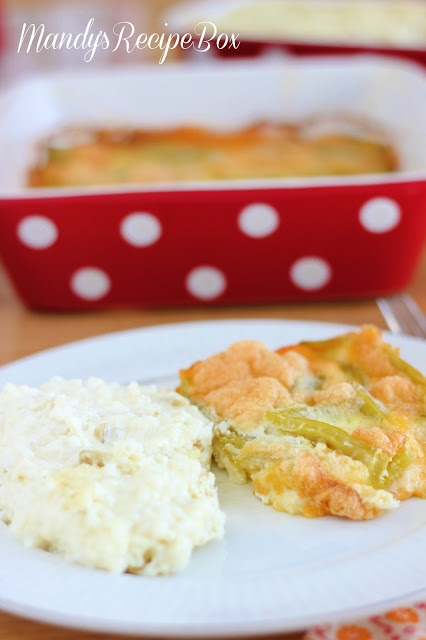 Chile Relleno Casserole & Sour Cream Rice
Ingredients
Chile Relleno Casserole
16 oz. shredded Monterey Jack cheese
16 oz. shredded Cheddar Cheese
2 (8 oz) cans whole green chiles (You may need more. I halved this recipe and still used 2 cans)
4 eggs, separated
1 Tbsp. flour
⅔ C. evaporated milk
salt and pepper to taste
Sour Cream Rice
2 to 2½ C. cooked rice
4 oz. can diced green chiles
8 oz. shredded Cheddar or Monterey Jack cheese
16 oz. sour cream
Directions
Sprinkle both cheeses into a lightly greased 9x13 casserole pan. Arrange chiles over cheese; set aside.
Beat egg yolks in a bowl; gradually beat in flour and milk.
In another bowl, beat egg whites until fluffy; stir into yolk mixture. Add salt and pepper to taste. Drizzle egg mixture over chiles. Bake uncovered at 325 degrees for 50 minutes or until eggs are set.
Let stand several minutes before serving. Makes 8 servings.
for the Sour Cream Rice
Combine all ingredients in a bowl; stir well.
Spoon mixture into a buttered 2 qt. casserole dish.
Bake uncovered at 350 degrees for 30 minutes, or until hot and bubbly. Serves 6 to 8.