I have always heard of but never made Chicken Spaghetti or Chickenetti, if you smoosh the words together. It's funner to say. Plus that's what Anna Duggar calls it. I also love the Pioneer Woman (who doesn't? I dare you to say out loud that you don't) who has a recipe for it. I took into account my family's tastes and adapted the two recipes into one and this is what I ended up with. My kids gave it a thumbs up so that's that.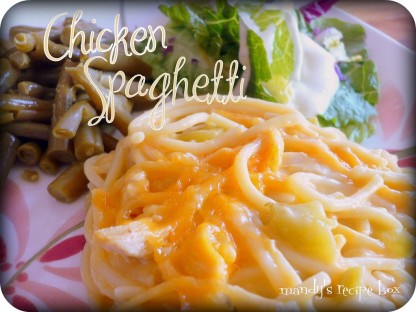 Chicken Spaghetti
Ingredients
2 c. cooked chicken, cut up
1 lb. package of spaghetti noodles
1 c. chicken broth
1 can cream of chicken soup
3 c. grated cheddar cheese (I use mild) divided
1 can diced tomatoes, optional
1 can green chiles
Directions
Cook noodles according to package directions.
Boil the chicken until done.
Toss together in a large bowl.
Add cream of chicken soup, green chiles, and tomatoes, and 2 c. cheese.
Pour all into a 9x13 casserole dish.
Top with 1 c. cheese.
Bake at 350 degrees until bubbly.