Chicken and Ravioli Carbonara is such an easy dinner recipe and takes no time at all to prepare. With bacon in it, you can't go wrong!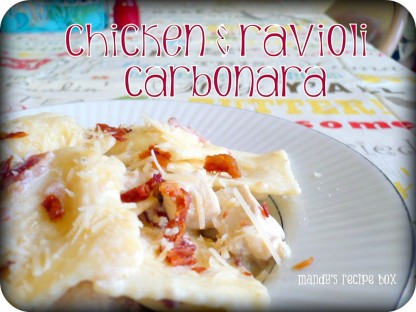 Bacon. This has bacon in it. The end. Ok. And Ravioli. Stuffed with cheese. And Parmesan cheese on top. With more bacon. What else do you need to know? Get cookin'!
Chicken & Ravioli Carbonara
Ingredients
2 Tbsp. Italian dressing
1 lb. chicken, cut into bite size pieces
1½ c. chicken broth
1 lb 9oz. package cheese ravioli (I got mine in the freezer section)
1 c. half and half
12-16 oz. package of bacon, cooked and crumbled
shredded Parmesan cheese
parsley (optional)
Directions
Heat the dressing in a large skillet. Cook the chicken in it til done.
Add broth and thawed ravioli. Heat to a boil. Reduce to medium and cook uncovered 4 minutes or till ravioli is tender.
Stir in half and half. Reduce to low and simmer 3-5 minutes or until sauce is at desired consistency.
Sprinkle in the bacon, but save some for topping later. Stir all together.
Serve up and top with more bacon, Parmesan cheese, and parsley.