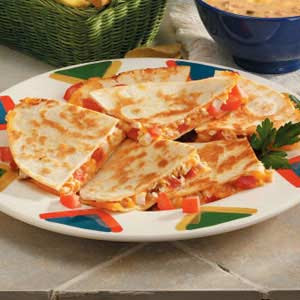 I love Taste of Home and found this in a magazine. I'm always up for the quick and easy recipes!
4 (8 ") flour tortillas
2 tsp melted butter
1 C shredded cheddar cheese
1/3 c finely chopped onion
1 med tomato, diced
diced, cooked chicken
Brush one side of each tortilla with butter. Place buttered side down on a griddle. Sprinkle with cheese, onion, tomato, & chicken. Top with other tortilla, buttered side up. Cook over medium heat 3-4 min on each side or til lightly browned. Cut into wedges.