This is one of the ultimate comfort foods to me. Chicken Pot Pie is just scrumptious. Especially this one. I use corn, peas, carrots, and potatos in mine. You can use whatever veggies you like. Green beans, etc. The topping doesn't get all soggy from being on the filling, which I wouldn't mind, but some would. It is a whole meal in one unless you wanted to add a salad to it. But who needs that when all the yummy goodness is right here?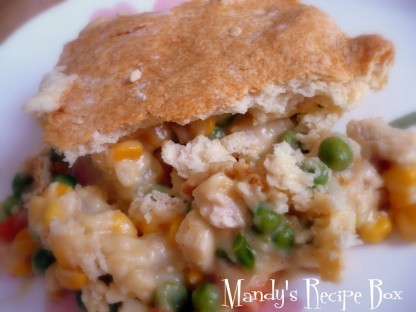 Chicken Pot Pie
Filling:
4 Tbsp. butter
1 onion, diced
4 Tbsp. flour
1 can cream of chicken soup
1 1/2 c. milk
1 tsp. paprika
1 tsp. salt
Chicken, boiled and cut into cubes (you could also use roast beef)
1 can corn
1 c. frozen peas or 1 can peas
1 can carrots or 1 c. sliced carrots
2 med. potatos cubed and boiled like you are making potato salad-not too soft.
*Or you just add 1 package of mixed frozen veggies, but I prefer the above veggies.
Melt butter in a pot. Add the onion. Cook 5 min. Add flour and stir in. Add cream of chicken soup. Stir in milk and bring to a boil stirring constantly with a whisk to get lumps out. Add paprika and salt. Simmer 5 minutes. Stir in cooked chicken and veggies. Note: I cook my potatos in a saucepan and when they are half way done I add the peas and carrots if I'm not using the canned kind. Cook til all are done and add to the sauce and chicken. Put into a 9×13 dish.
Topping:
You can use this biscuit recipe or cheat like I often do and use Biscuick or equivelent. If you cheat, make 1 batch of biscuits according to the package and roll out into a rectangle to fit your dish. Lay it on top of the filling. And wait patiently for the rest of the instructions while I tell everyone else how to make the homemade biscuit dough.
3 c. flour
2 1/2 Tbsp. sugar
4 1/2 tsp. baking powder
3/4 tsp. cream of tartar
3/4 tsp. salt
1 1/2 sticks of cold margerine or butter
3/4 c. milk
1 egg, slightly beaten
Combine flour, sugar, baking powder, tartar, and salt. With a fork or pastry cutter, blend in butter until it resembles fine meal. Stir in the egg and milk. Knead slightly and roll out into a rectangle to fit you casserole dish.
Here is a trick: Roll up the dough with your rolling pin, place on the dish and unroll it to cover the filling.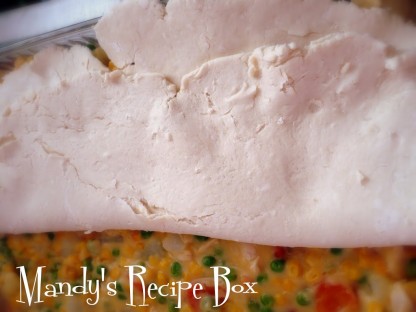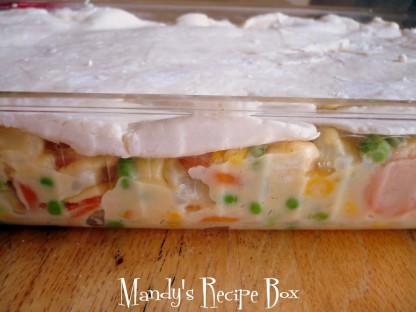 Bake at 375 for 15 minutes or until golden on top. Watch it so you don't get it too dark.