Chicken and Orzo is one of my new favorite meals. It's a complete meal all together. I love the simple flavor of the Orzo, topped with some fresh squeezed lemon. Orzo is just tiny pasta. It's right in the pasta aisle so be sure to look for it. The chicken is super tasty and cooking the zucchini in the same pan as the chicken gives it a delicious flavor. It's all cooked on the stove so it's very simple to prepare. You will love this recipe!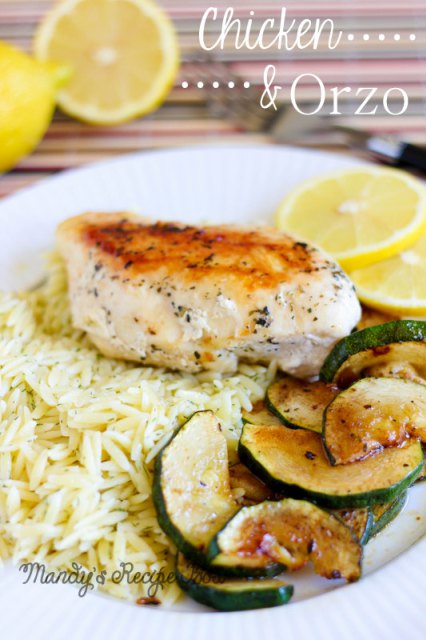 Chicken & Orzo
Ingredients
4 Tbsp. olive oil, divided
4 boneless, skinless chicken breasts
1 tsp. dried basil
salt and pepper to taste
2 zucchini, sliced
8 oz. package orzo pasta, uncooked
1 Tbsp. butter, softened
2 Tbsp. red wine vinegar
1 tsp. dill
Garnish: lemon slices
Directions
Heat 2 Tbsp. oil in a large skillet over medium heat.
Sprinkle chicken with basil, salt and pepper.
Add chicken to skillet and cook, turning once, for 12 minutes, or until juices run clear.
Remove chicken to a plate and keep warm.
Add zucchini to skillet and cook for 3 minutes or until crisp-tender.
Meanwhile, cook orzo according to package directions; drain and stir in butter.
Whisk together remaining oil, vinegar, and dill; drizzle over orzo and toss to mix. (I added salt to my orzo for more flavor)
Serve chicken and zucchini with orzo. Garish with lemon slices.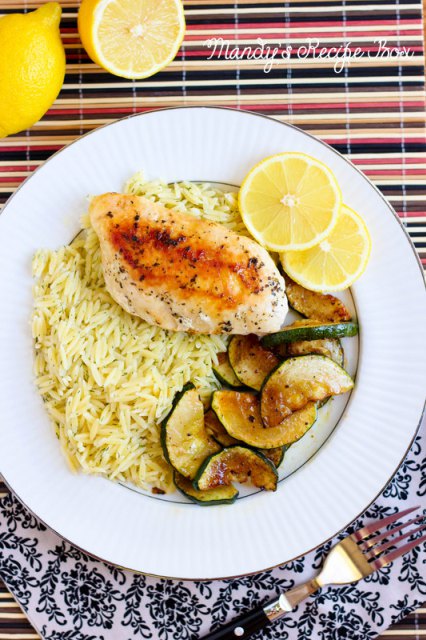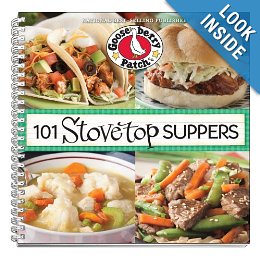 This cookbook is full of easy and delicious stovetop recipes. It is one of my favorite Gooseberry Patch cookbooks. It has recipes like Pepperoni Tortellini, Chicken Romano, Creamy White Chili, and even desserts like Chocolate Hazelnut Skillet Bars.