Alright,
fine
. I will post a "healthy" recipe today. And Oh.My.Goodness. That's all I can say about this soup. I got it from the Pioneer Woman and she knows her stuff. It is so comforting and soul warming. I could eat this at least once a week. It's that
good
wonderful. I tweaked it a tad to suit my tastes. I must say I absolutely recommend using a whole fryer chicken (you can buy them already cut up) because it makes it taste 
so
much better than just using boneless, skinless chicken breasts. The bones and skin add such delicious flavor. Just remove them after the chicken is done cooking. Hope you love it as I did.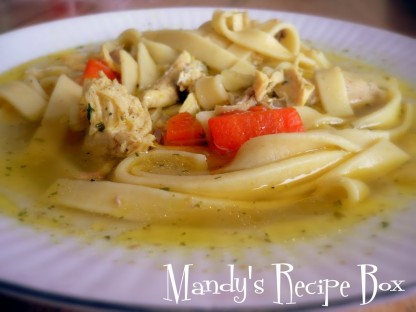 1 whole Cut Up Fryer Chicken
2 whole Carrots, Diced
2 stalks Celery, Diced
½ whole Medium Onion, Diced (optional)
1 teaspoon Salt
a few teaspoons or cubes of chicken bouillon to taste
½ teaspoons Turmeric
¼ teaspoons pepper
¼ teaspoons Ground Thyme
2 teaspoons Parsley Flakes
16 ounces, weight Frozen "homemade" Egg Noodles ( I used dried noodles…you'll see)
3 Tablespoons All-purpose Flour (optional for thickening)
Cover chicken in 4 quarts water. Bring to a boil, then reduce heat to low. Simmer for 30 minutes. Remove chicken from pot. With two forks, remove skin and as much meat from the bones as you can, slightly shredding meat in the process. Return bones to broth and simmer on low, covered, for 45 minutes. Remove bones from broth with a slotted spoon, making sure to get any small bones that might have detached. Add the carrots and celery (and onions, if using) to the pot, followed by the herbs and spices and bouillon.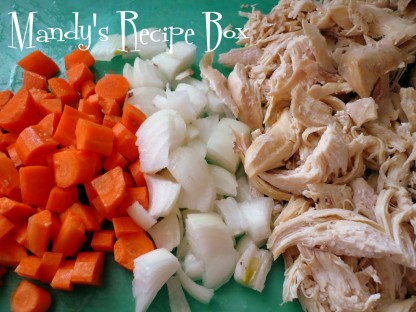 Stir to combine and simmer for ten minutes to blend the flavors.Increase heat and add noodles and chicken.
I used these noodles from Sam's Club. About 4 large handfuls is what I did. They do expand a little.
 Cook until noodles are done. If you want to thicken it, at this point, mix flour and a little water. Stir until smooth. Pour into soup, stir to combine, and simmer for another 5 minutes, or until broth thickens a bit. Test and adjust seasonings as needed.