You know those chocolate covered cherries aka Cherry Cordials? Ew. I love maraschino cherries, but not like that. They make me gag. I can eat maraschino cherries plain or on a shake or in stuff, but not chocolate covered cherries. These Cherry Almond Cookies have bits of maraschino cherries in them and they pair perfectly with almond extract.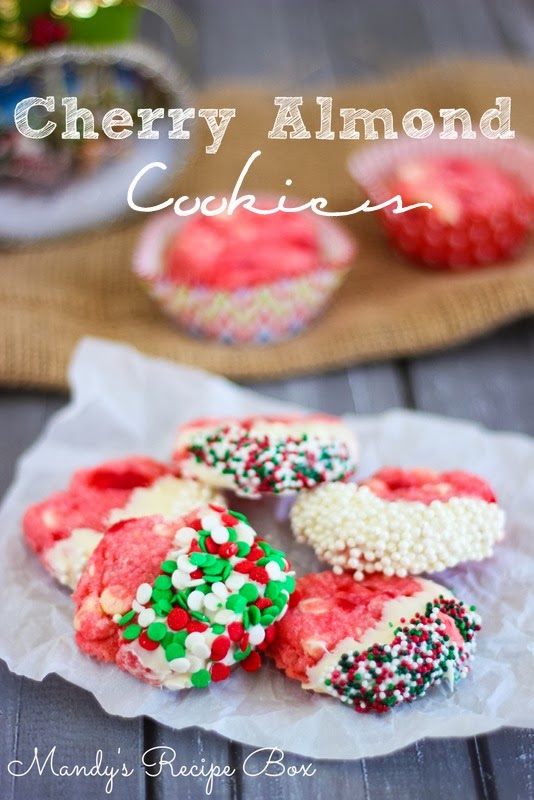 Cherry Almond Cookies
Ingredients
½ cup maraschino cherries (drained and finely chopped)
2½ cups all-purpose flour
½ cup sugar
1 cup cold butter
12 oz white chocolate chips
½ teaspoon almond extract
1 teaspoon maraschino cherry juice
2 teaspoons butter
Sprinkles (optional)
Directions
Pre-heat oven to 325 degrees.
In a large bowl, combine flour and sugar.
Add butter and mix with a pastry cutter until crumbly.
Stir in drained cherries and ⅔ cup white chocolate chips.
Stir in extract and cherry juice.
Knead the dough into a ball.
Roll out pieces of dough into 1 inch balls.
Place 2 inches apart on parchment paper on a cookie sheet.
Using a glass dipped in sugar, flatten balls.
Bake 10 to 12 minutes or until centers are set.
Cool on cookie sheet 1 minute; remove to wire rack to finish cooling.
Place remaining chocolate in a microwave safe bowl with the butter.
Microwave at 30 second intervals, stirring in between until melted and smooth.
Dip half the cookie in chocolate and then into sprinkles.
Place on parchment or wax paper until set.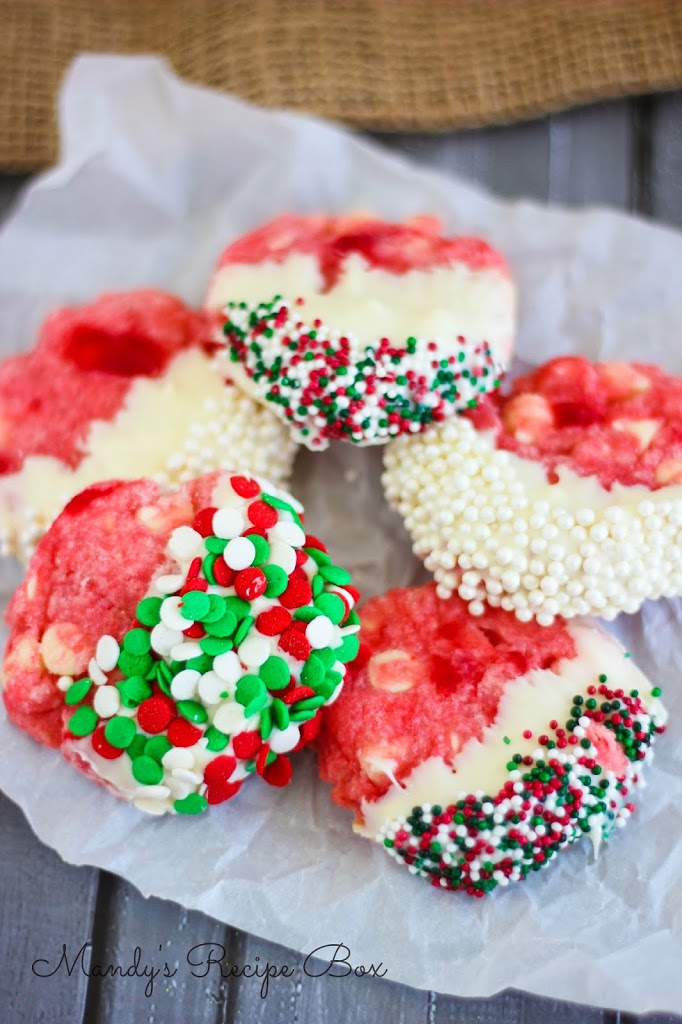 You can certainly eat these undipped. They are delicious either way. They make great neighbor treats!