Cheesy Rice and Chicken Casserole will make mouths happy. Cheese, rice and chicken make for an amazing dish.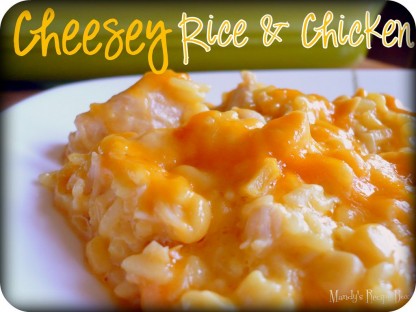 Casseroles are my friends. They are usually made up of a bunch of yummy stuff all put together and baked. The ones I love best have cheese. Lots and lots of cheese. This dish does not disappoint. I'm sure it will be on your make again (and again) list. Plus it's one of my most viewed recipes of all time!
Cheesy Rice and Chicken Casserole
Ingredients
1 Box Yellow Rice (I used Zatarain's)
½ C. Margarine or butter, softened
1 Can Cream Of Chicken Soup
1-2 C. shredded, cooked chicken
1 can Whole Kernel Corn (drained)
1½ C. Cheddar Cheese
Directions
Cook rice according to package directions.
Add rice and all other ingredients, except for ½ C of cheese, into a bowl and stir until well combined.
Spread into casserole dish and top with remaining cheese.
Bake at 350 for about thirty minutes, or until bubbly.