I was going through
Recipe Girl
's site and came across this incredible dish. Cheesy Baked Penne.
Cheesy
is the word that caught my eye. That's all I needed to know. I make this dish when I have ham to use up. I also buy ham just to make this. It is so creamy and gooey. It is a must make in my kitchen. If you try it, it will be on your "make again" list. I tweaked it a little to suit our taste.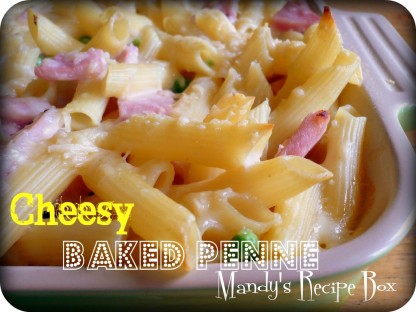 Ingredients
4 cups 2% milk
4 Tbsp. (1/2 stick) unsalted butter
¼ cup all-purpose flour
1 freshly ground pepper, to taste
Pasta:
1 pound penne pasta, cooked al dente
1 cup frozen peas
1 ½ cups diced ham
1 cup diced provolone cheese
1 cup freshly grated Parmesan cheese
Directions
Heat milk in a medium saucepan until small bubbles form around the edges.
In a larger saucepan, melt butter over medium-low heat.
Add flour and stir well; continue to cook, stirring, until thick and smooth, about 2 minutes.
Slowly begin adding hot milk to the large saucepan, whisking constantly while adding. Sauce will start out lumpy and become smooth as milk is incorporated.
Stir in freshly ground pepper.
Turn heat up to medium and bring sauce to a simmer for an additional 2 minutes.
Remove from heat and set aside while you prepare the pasta.
Preheat oven to 350 degrees F.
Butter a shallow 2 1/2-quart baking dish.(I used a 9×13 dish)
In a large bowl, toss cooked pasta with the sauce. Stir in peas, ham, provolone and ¾ cup of the grated Parmesan.
Scrape the mixture into the baking dish and sprinkle with the remaining Parmesan.
Cover with aluminum foil and bake 25 minutes.
Uncover and bake until sauce is bubbling around the edges and the center is hot (about 10 minutes more).
Remove from the oven and let cool for about 10 minutes before serving.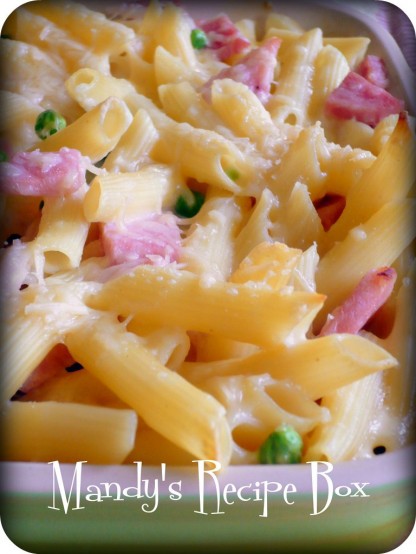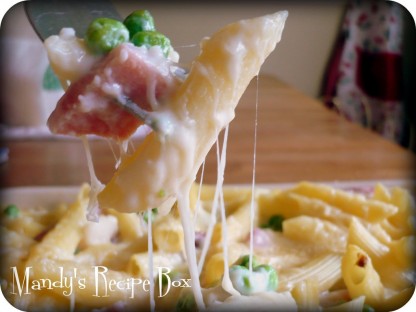 I cannot get over that cheesy goodness! It's not exaggerated. At all.