Caramel Popcorn is a favorite treat at out house. It's soft and gooey and completely addicting!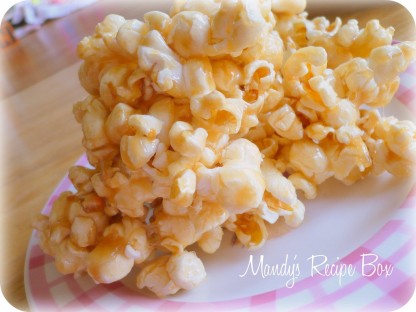 My husband's Grandma makes popcorn balls every year for Christmas for whoever stops by or for all of us to munch on. She just has a stash of them ready to go. They are wonderful. When I make them, I just leave it all in a big bowl to dig at. The best is when you get to the bottom and there's all this extra caramel hidden away. So soft and gooey…I love this recipe. It makes a great gift as Popcorn Balls or you can leave it in a bowl and wait for the gooey surprise at the bottom.
Caramel Popcorn
Ingredients
2 c. brown sugar
1 c. Light Corn Syrup
1 tsp. vanilla extract
½ cup butter
1 can Sweetened Condensed Milk
Directions
Place the brown sugar, corn syrup, and butter in a saucepan and stir until the margarine is melted. Add the vanilla and stir. Add the sweetened condensed milk and stir all together. Stir and cook slowly over medium heat until it reaches the softball stage. To test this, just get a mug of cold water and drop some caramel in. If it stays somewhat together and not turn the water soupy, it's ready. Pour over a large bowl of air popped popcorn. That's about 1½ c. kernals.
Shape into balls and wrap in plastic wrap, or leave it in the bowl.