This Caramel Apple Poke Cake will have everyone wanting seconds! With apples baked into the cake and caramel and chocolate on top, it's bound to be a hit.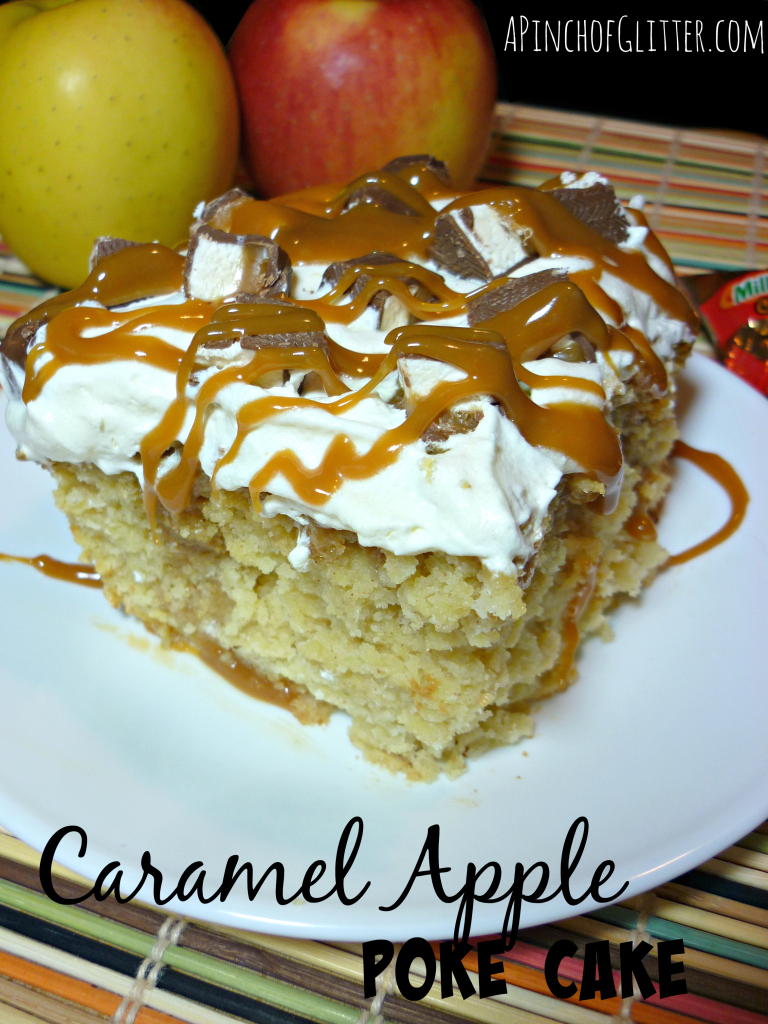 Hello Mandy's Recipe Box readers! It's Lori from A Pinch of Glitter, and I am so happy to be back with you again this month, sharing one of my favorite desserts of all time. My parent's have an orchard. They grow everything from peaches, cherries, apricots, and more! One of their biggest crops is apples, and every time that I go to visit them during apple season I seem to go home with more apples than I know what to do with. Last year during apple season, I remember coming home with an entire bushel of apples – for just me and my husband. There was no way that we were going to be able to eat all of those, even with one packed in each of our lunches every day. I tried to use them everywhere I could, and made things like my Mountain Dew Apple Cinnamon Dumplings, Apple Jello Salad, and Milky Way Caramel Apple Nachos. But I still had apples left.
One of my favorite desserts of all time is Skor Cake (or BTS cake…). I frequently ask for it for my birthday because I love it so much. I decided that I wanted to try to recreate that recipe using apples (because I know that caramel and apples go together just about as well as milk and cookies). I tried it, and OH BOY was it a success!! I took it with me to a family gathering, and it was quite a hit. I only ended up making it once last year, but ever since then I've been thinking about it. Unfortunately you can't make this cake exactly as called for in the recipe year-round because there are seasonal ingredients (can someone please ask them to make Caramel Apple Milky Ways all year?!). But it wouldn't be hard at all to substitute the Milky Ways for something else – like Snickers bars, chopped nuts, M&Ms or even plain Milky Ways. Whatever you would top your caramel apple with, you can top this cake with as well! When I told my husband this fall that I was planning to make this cake again, he was beyond ecstatic! He normally doesn't remember things like a cake a year later, but he definitely remembered this one! The whole time I was making it, he was asking me if it was done yet 🙂 And then he had to wait for me to take pictures of it. What a tough life… 😉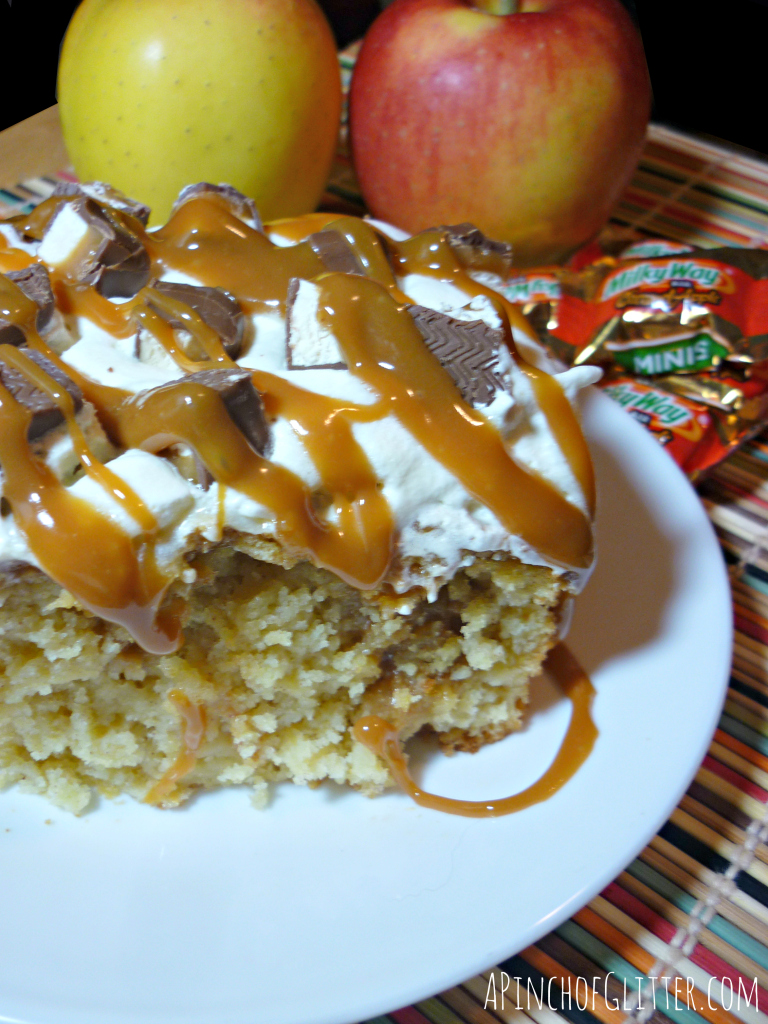 Ingredients:
1 yellow cake mix AND ingredients called for on package (such as eggs, oil, water)
2 tsp. cinnamon
3 cups shredded apples (about 4 large, or 5 small apples)
1 cup flour
14 oz. sweetened condensed milk
19 oz. butterscotch caramel sauce (I used Smucker's)
8 oz. cool whip
30 mini size Caramel Apple Milky Ways, quartered
Directions:
1. Mix cake mix according to package directions. Stir in cinnamon.
2. Mix together apples and flour (it will be kind of mushy, but this prevents the cake from being too soggy).
3. Mix apples and cake batter together.
4. Pour batter into a greased 9×13 pan. Bake according to package directions, adding about 10-20 min to the cooking time (or until a toothpick inserted near the center comes out clean).
5. Remove cake from the oven and allow to cool slightly.
6. Meanwhile, in a LARGE microwave-safe bowl, mix together the sweetened condensed milk and caramel sauce. Microwave for 6 minutes, stirring at least every minute (make sure it is in a large bowl, or it WILL overflow!)
7. Poke holes in the cake with the end of a wooden spoon, and pour caramel sauce over the cake. Place cake in the fridge and allow cake and caramel to cool completely.
8. Once cake is completely cooled, top with cool whip, then Milky Ways.
9. Optional: drizzle some additional caramel sauce on top as an extra garnish.
10. Serve and enjoy! Refrigerate any leftovers.