Caramel Apple Pecan Blondies are a great idea for your holiday dessert table!  Rich caramel bits are nestled in a brown sugar blondie base with sweet apple pieces and crunchy pecans.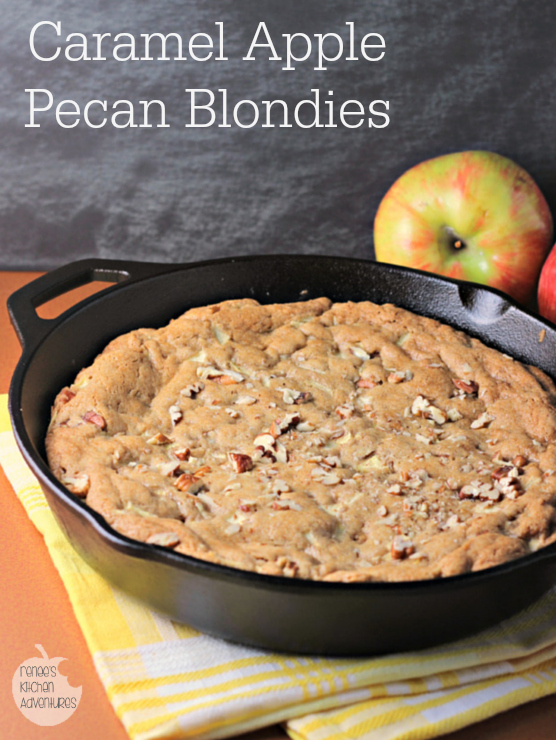 I can't believe the holidays are almost upon us already.  Every year they seem to sneak up on me faster and faster. (I think I'm just getting old!) It's time to start thinking about that holiday menu and I think these blondies would be a delicious addition to anyone's Thanksgiving table! When I saw a blondie recipe on Patsy's blog,
FamFriendsFood
, a few weeks ago, I knew I wanted to make a version of them to share on Mandy's Recipe Box!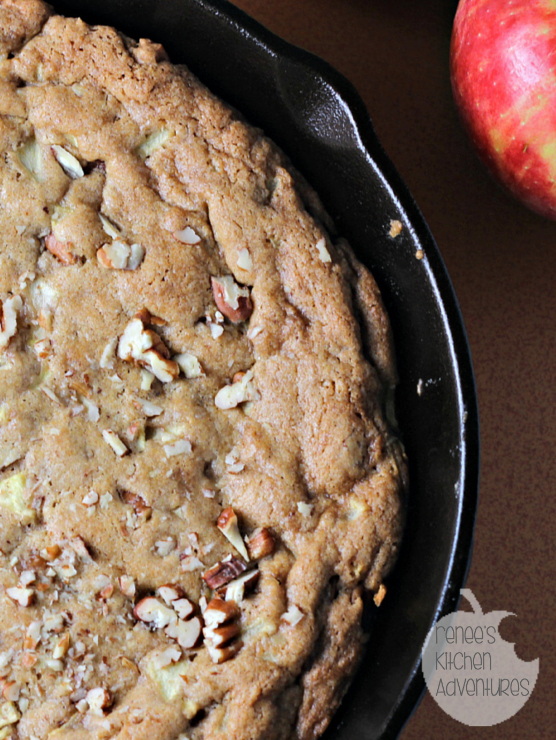 You can serve them warm with a drizzle of caramel sauce and a dollop of whipped cream (as pictured) or top them with some ice cream instead of the whipped cream for a fun sundae type dessert.  They are also just as good served at room temperature.  It's your choice!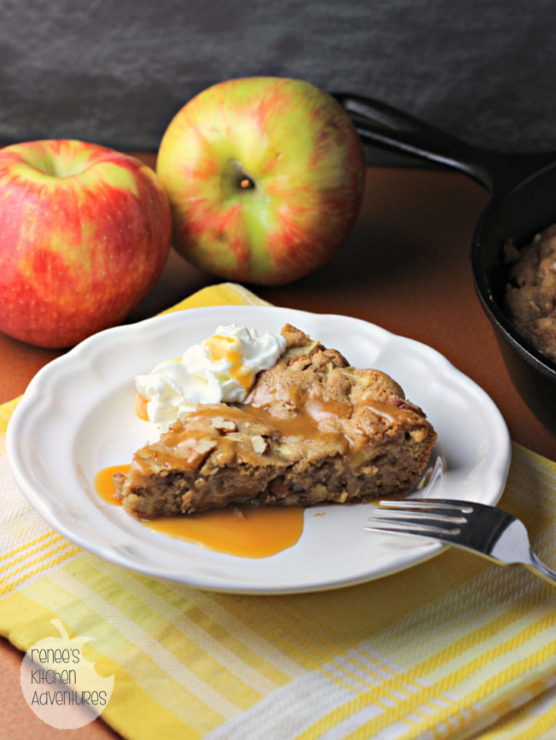 I decided to make these in a 10″cast iron skillet and cut them in wedges, but you could make them in an 8″x 8″ baking dish and cut them into squares instead.  I like the rustic look of the cast iron skillet myself.  You could also replace the caramel bits with vanilla chips or cinnamon chips if you like! Give these easy and yummy blondies a try!  I'm sure you will love them like we did!
If you like these blondies, you might like these recipes too!
Caramel Apple Pecan Blondies
Rich caramel bits, sweet apple pieces, and crunchy pecans are nestled in a rich brown sugar blondie.
Author:
Renee for Mandy's Recipe Box
Ingredients
1 cup brown sugar, packed
2 tsp pure vanilla extract
½ cup unsalted butter, melted
1¾ cup all purpose flour
½ tsp baking soda
½ tsp kosher salt
1 cup peeled and finely diced apple (I used honey crisp)
½ cup caramel bits
½ cup chopped pecans (reserve a few for the top, if desired)
Directions
Preheat oven to 350 degrees. Spray a 10″ cast iron skillet with cooking spray or spray an 8″x 8″ baking dish with cooking spray and set aside.
In a large bowl, combine the brown sugar, vanilla and melted butter with an electric mixer until combined and smooth.
Add in flour, baking soda, and salt and beat on medium speed until smooth and incorporated.
Mix in the apples, caramel bits, and most of the pecan pieces. (Reserve a few to sprinkle on the top before baking, if desired)
Spread batter into prepared pan. Sprinkle top with reserved pecans if desired. Bake in oven for 25-30 minutes or until the side begin to pull away. Do not over bake. You want this blondie to be chewy.
Cool for 15 minutes on wire rack and cut into servings if eating warm or cool to room temperature and cut into serving sizes.
Notes
Adapted from FamFriendsFood
Like what you see?  Follow RKA on all these social networks!!