The perfect dessert for Taco Tuesday would be Caramel Apple Nachos. Cinnamon Sugar tortilla chips topped with Caramel Apple pie filling and whipped cream. It's a winner!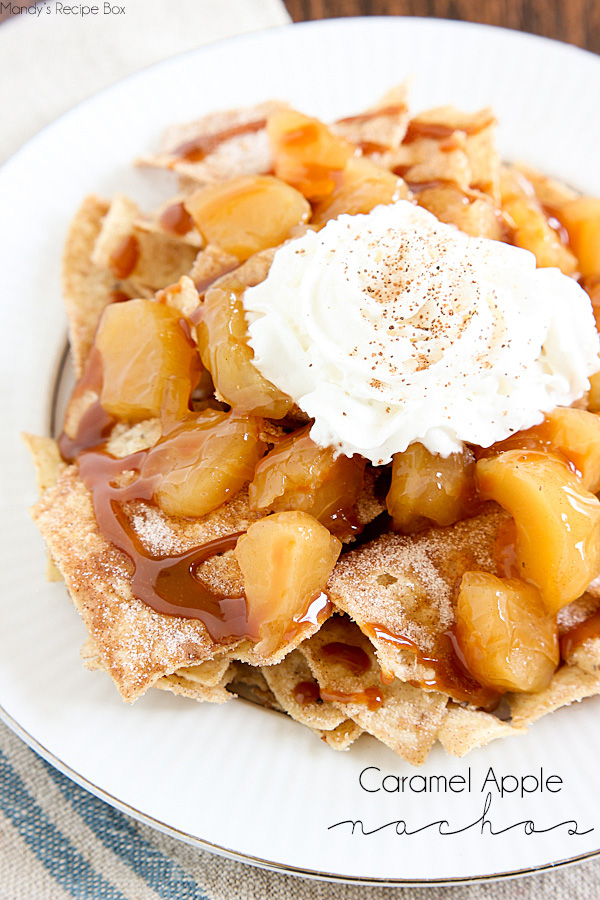 Cinnamon Sugar is something I can't resist. For whatever reason, it's just perfect on desserts. When I was in Portland over the weekend, we went to the famous Blue Star Donuts. There were some seriously delicious donuts there. Lots of choices. I chose a key lime curd filled powdered sugar donut and a cinnamon sugar donut. Basic, I know but soooo good. It let the donut come through so you could actually taste it without being over powered by lots of other flavors. Cinnamon Sugar is a favorite combo of mine.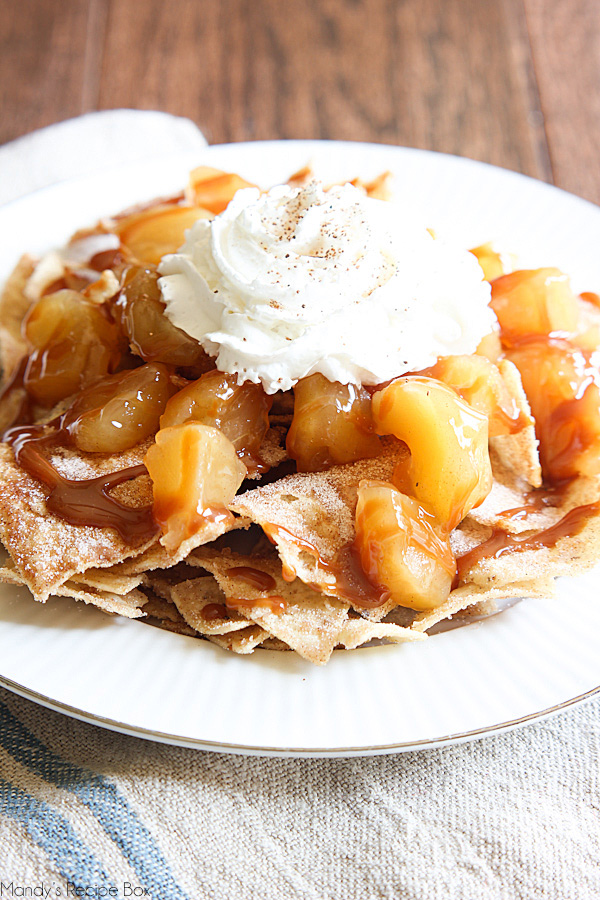 The simplicity of these Caramel Apple Nachos is key. It really lets every part of it shine through. I coated tortilla chips with melted butter and cinnamon sugar. You could make your own with tortillas (like my Copycat Taco Maker Crustos) but the chips make for a quicker version and they are so good. Then I topped the cinnamon sugar chips with Caramel Apple Lucky Leaf® Fruit Filling and Topping. I could eat that stuff with a spoon. Lucky Leaf knows their stuff. They have over 60 years of experience in making fruit fillings. I finished off the nachos with caramel sauce, whipped cream and a sprinkling of nutmeg. You could add vanilla ice cream as well, but I liked it as is.
These Caramel Apple Nachos are a great recipe for kids to make. Do you know how much fun it is watching their reaction when you tell them that they can stick their hands into the chips and toss them around with cinnamon sugar? It's great, let me tell you! This is one recipe they can make from start to finish all by themselves. Watch how proud they look as they serve it up.
Be sure to pin this to your favorite Pinterest boards!

This sponsored post is part of my ongoing role as an ambassador for Lucky Leaf® Fruit Filling and Topping.
For more deliciousness, be sure to follow Lucky Leaf® on Facebook, Twitter and Pinterest.