These Cake Batter Rice Krispie Treats have the delicious flavor of a cake in the classic Rice Krispie Treat form. This easy recipe will make everyone happy.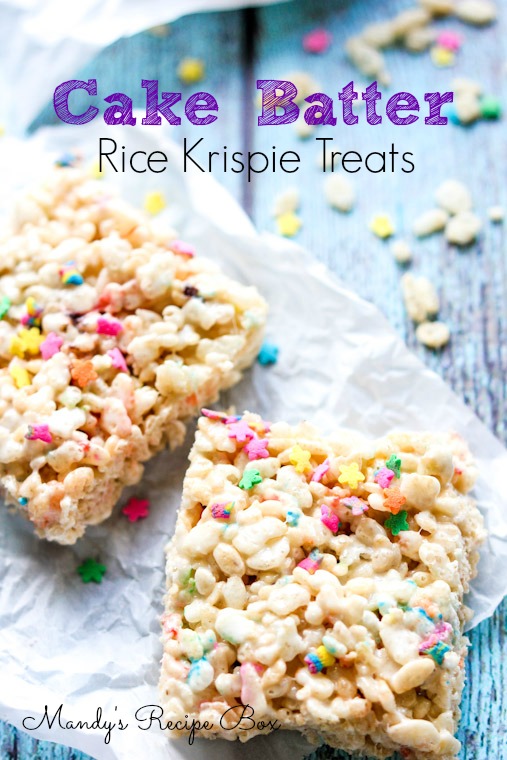 Licking the beaters after making a cake ranks right up there on the awesome list. That yummy flavor is in these treats. Grab a glass of milk and you're set.  The sprinkles make for a fun pop of color and let's be honest, sprinkles always win.  These treats are a great alternative to a birthday cake. My oldest son hates cake. Any kind. Weirdo. So I have to think of other things to make him for his birthday. Cookies, brownies, anything but cake. He was probably switched at birth, but don't tell him that. These Cake Batter Rice Krispie Treats will be a perfect substitution for birthday cake. He doesn't need to know that there's cake mix in them.
Cake Batter Rice Krispie Treats
Ingredients
3 Tbsp. butter
10 oz. package mini marshmallows
6 cups Rice Krispie cereal
⅔ cup white or funfetti cake mix, dry
sprinkles
Directions
Melt the butter in a large saucepan on low heat.
Add the marshmallows and stir until melted.
Take the pan off the heat and turn off stove. Add the cake batter and stir in.
Add the cereal and 1 Tbsp. sprinkles. Mix well.
Press into a buttered 9×13 dish. Top with more sprinkles and let set.
Notes
If you lightly wet your hands, it keeps the marshmallow from sticking to you when pressing into the pan.