Lasagna is one of my favorite comfort foods. When I make it, I use cottage cheese instead of Ricotta. It's just the way I've always eaten it. Once, I tried making it with Ricotta cheese and my husband didn't love it as much as he did with the cottage cheese. So I went back to using cottage cheese. Why fix something if it isn't broken and all?
But lasagna is not a fast meal to prepare. This skillet version is. While I still prefer the classic version, this is a tasty substitute for when you want and quick and easy meal.
Busy Day Lasagna Toss
Ingredients
1 lb. ground beef
1 C. green pepper, chopped
½ C. onion, chopped
3 garlic cloves, minced
26 oz. jar spaghetti sauce
1⅔ C. water
¼ C. Italian salad dressing (prepared not dry)
¼ C. brown sugar (I used 1 Tbsp. and it was plenty sweet)
12 no boil lasagna noodles, uncooked (or use regular noodles and just break them up, then cook them in a pot of water and add to the beef mixture)
½ C. ricotta or cottage cheese
1 C. shredded mozzarella cheese
Directions
Brown beef in a large deep skillet over medium heat; drain.
Add pepper, onion, and garlic; saute until tender.
Stir in sauce, water, salad dressing and brown sugar. If using regular noodles, leave out the water.
Bring to a boil.
Break each noodle into 4 pieces; stir into mixture.
Reduce heat to medium-low; cover and cook, stirring occasionally until noodles are tender, about 10-15 minutes.
Remove from heat.
Stir in ricotta or cottage cheese.
Sprinkle with mozzarella cheese; cover.
Let stand for about 5 minutes, until cheese is melted.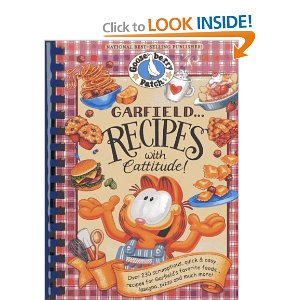 I love this cookbook! It is full of over 230 quick and easy recipes for Garfield's favorite foods…lasagna, pizza and much more. There's Strawberry Ice Cream Soda, Upside Down Apple Muffins, Homestyle Potato Pancakes, Mocha Party Cake, Chicken Chimies, and so much more. Plus there are tips and pictures of Garfield and Odie throughout the book.