Canned biscuits make preparing these Bubble Up Enchiladas a cinch. You won't believe how fast they will disappear!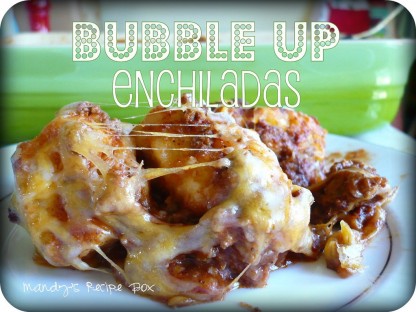 You will be making these quite often. Let me just get that out there. They can be made with one hand tied behind your back. Or by your husband when you are out harvesting potatoes, driving a big ol' dump truck while Tigger (that's his name) loads you up from the potato harvester machine.
Or something like that.
Did you get that these are easy to make?
Plus the kids will gobble them up like there's never going to be any more.
Ever.
Plus there's only 6 WW points, if you're into that and make it with ground turkey.
I made it with ground beef.
Can you tell which way I roll?
Bubble Up Enchiladas
Ingredients
1 pound ground turkey or ground beef
1 (10 ounce) can enchilada sauce
1 (8 ounce) can tomato sauce
1 can reduced fat refrigerator biscuits
1 ¼ cups shredded low fat Mexican Cheese
Directions
Preheat oven to 350 degrees.
Brown turkey and drain if needed.
Mix in the can of enchilada sauce and tomato sauce.
Cut the refrigerated biscuits into fourths and stir them in the meat mixture.
Dump it all in a greased casserole dish and bake for 25 minutes.
Take out of oven and sprinkle cheese on top. Bake an additional 10 minutes.
Let stand for 5 minutes before serving.