This Broccoli Soup recipe is so delicious and it's good even on a summer night. Eat with crackers or dip a grilled cheese sandwich into it!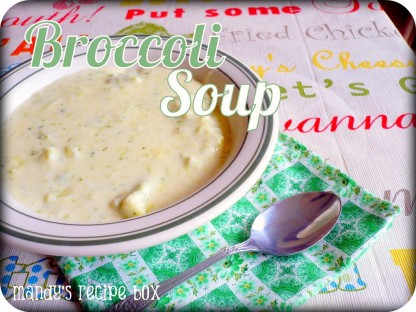 Broccoli Soup
Ingredients
4-5 cups of chopped broccoli
1½ c. chicken broth
3 c. milk
1 c. heavy cream
¾ c. flour
¾ c. butter
¼ tsp. salt
⅛ tsp. pepper
2 c. grated cheddar cheese
Directions
In a saucepan, cook the broccoli in the broth for 5 min.
In a different pot, melt the butter and dissolve the flour in melted butter to make a paste.
Add milk and cream to butter mixture, stirring constantly. Add salt and pepper; bring to boil and cook til thickened.
Add cheese; stir. Add broccoli with broth.
Stir and serve.
At the end when the soup is ready, I use a hand puree mixer and blend some of the broccoli up. We often have this with grilled cheese sandwiches, and it's yummy to dip them in!