This post is sponsored by Lucky Leaf. All opinions are my own.
These beauties are simply delicious. A cake mix crust and a no-bake cheesecake filling are the perfect pairings with Lucky Leaf Blueberry pie filling. You will be craving these Blueberry Cheesecake Bars all summer long. I'm giving away some Lucky Leaf pie filling so stick around for the giveaway!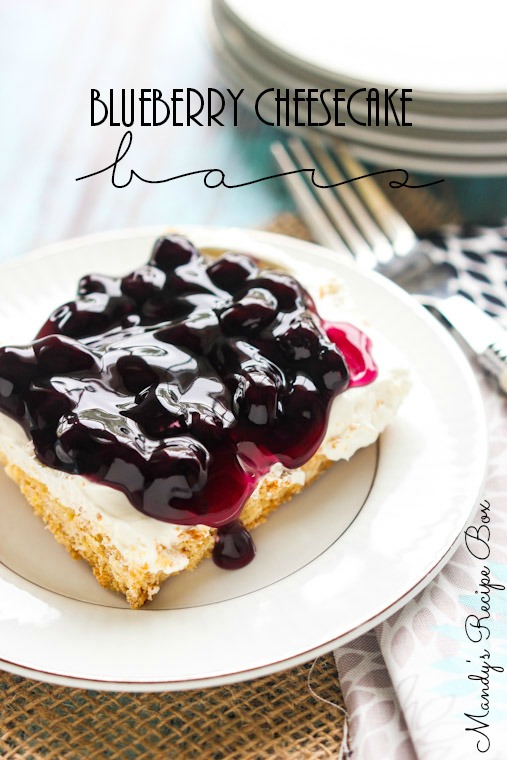 I have been having the craziest busiest summer in the history of my life! I can't believe how busy June has been and will continue to be. Swimming lessons (we have to drive 26 miles one way), family reunion, dentist appointments, regular household stuff, regular children stuff and a bridal shower this weekend. My word!
Are you exhausted just reading that? I am. How about a simple dessert to make it better?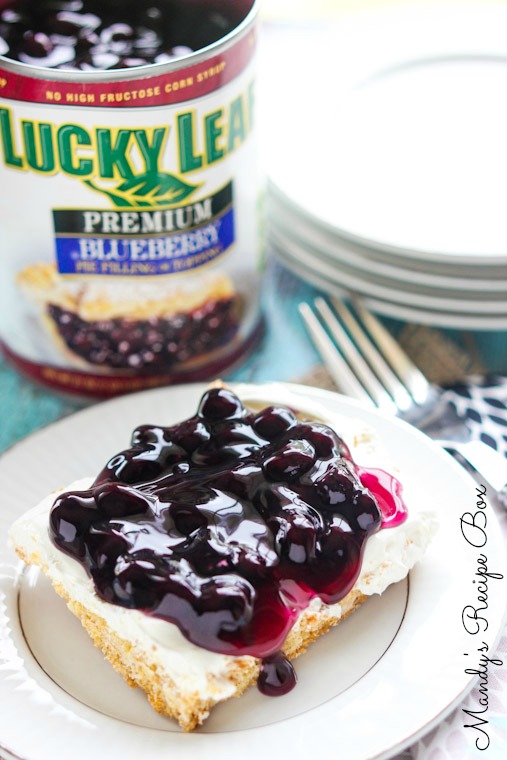 Summer is fun and I love the family BBQs and get-togethers. I reallllly love the food. I realllly love blueberries. I realllly love this dessert.
Lucky Leaf
has some delicious pie filling out there. I made
this cake
with their cherry pie filling and
this cake
with their peach pie filling. Can you tell I love cake?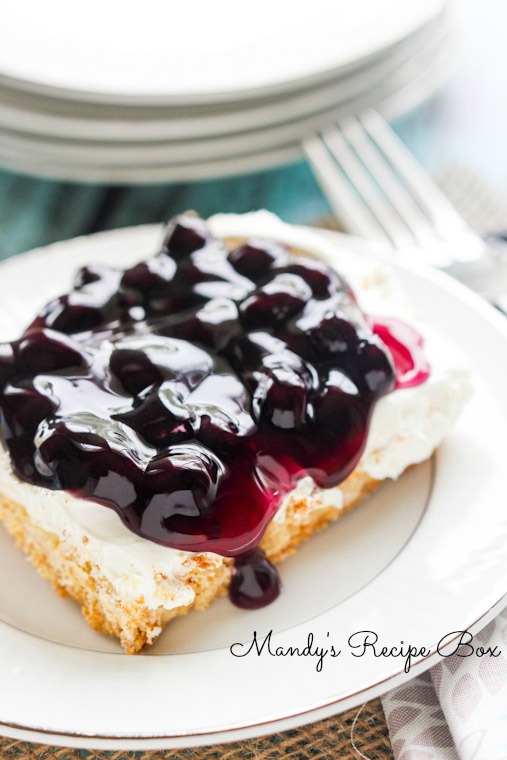 Ingredients
1 box white or vanilla cake mix
1 egg
1/3 cup butter, softened
8 oz cream cheese, softened
2 cups powdered sugar
1 (8 oz.) container Cool Whip
1 (21 oz.) can Lucky Leaf Premium Blueberry Pie Filling
Directions
Mix together the cake mix, egg and butter. Press into a greased 9×13 pan.
Bake at 350 degrees F for 18-20 minutes. Remove from the oven and cool on a wire rack.
Meanwhile, mix together the cream cheese and powdered sugar. Mix in the Cool Whip.
Spread onto the cooled crust.
Cut into bars and top with pie filling.
Giveaway is closed.
You may also like these recipes:
Connect with me…