This Banana Cream Pie Smoothie tricks your taste buds into thinking they are getting a treat. But really, it's a healthy smoothie. You could make this into a milkshake if you wanted by using vanilla ice cream instead of the yogurt, but I never said that. Nope. I did not.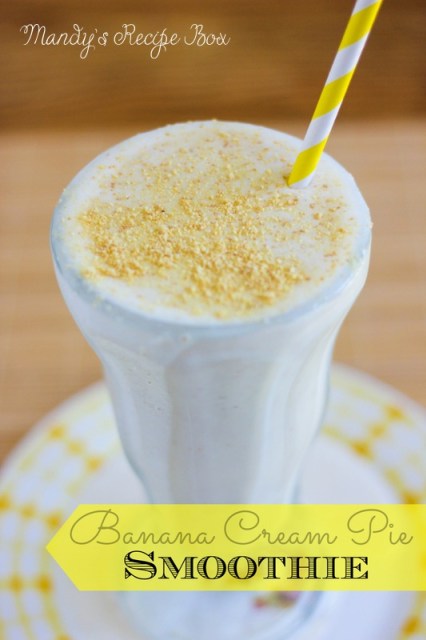 I know it may not look like it from the recipes I post, but I really am trying to eat healthier. I absolutely believe in the saying, "All things in moderation". Well, except when it comes to drugs or alcohol (I don't drink) or breaking the law. You know, "It's ok to do some drugs as long as it's in moderation." I mean when it comes to dieting. I will never be one to cut all sugar or carbs or whatever out of my diet. It just won't happen. I love them too much. But I am trying to watch my portion sizes and how many sweets I eat. Maybe just one cookie instead of 3.
Banana Cream Pie Smoothie
Ingredients
1 medium banana, sliced
1 C. vanilla yogurt
½ C. milk (cow's, almond, soy etc.)
2 Tbsp. Graham Cracker Crumbs
1 Tbsp. dry milk powder
½ tsp. vanilla extract
3 ice cubes
more graham cracker crumbs for garnish
Directions
Place sliced banana onto a small baking sheet or pie tin and freeze for 1 hour.
Place the banana slices and the rest of the ingredients except the garnish into a blender.
Blend until smooth.
Pour into a large glass.
Garnish with extra graham cracker crumbs.