Banana Cake with Vanilla Bean Frosting is my favorite banana cake recipe. The frosting is so creamy and good, you may just want to grab a spoon.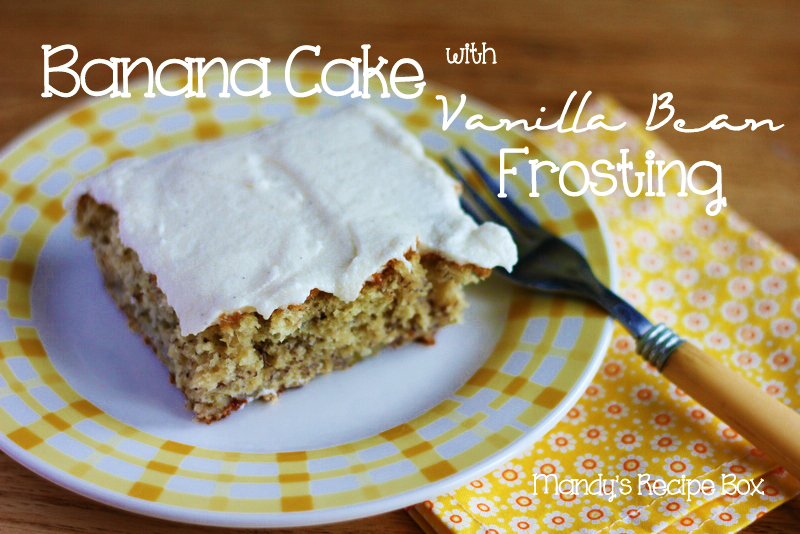 This cake…let me just tell you…is delicious.
This frosting…let me just warn you…is amazing.
It is my new favorite frosting. I will be using it in place of any other vanilla frosting. Even store bought, which I really love. It has heavy cream in it. Enough said. P.S. Lance had two pieces. In a row. That's how awesome this cake is.
Banana Cake with Vanilla Bean Frosting
Ingredients
Cake Ingredients
⅔ cup sugar
½ cup sour cream
1 egg
2 tablespoons unsalted butter, softened
2 mashed super ripe bananas (about ¾ cup)
1 teaspoon pure vanilla extract
1 cup flour
¼ teaspoon salt
½ teaspoon baking soda
Frosting Ingredients
2 tablespoons unsalted butter, softened
¼ cup heavy cream
½ teaspoon vanilla bean paste** (see notes)
1¼ cups confectioner's sugar
Directions
For the Cake
Preheat the oven to 375F
Cream together sugar, sour cream, egg, and 2 tablespoons softened butter.
Add mashed bananas and 1 teaspoon vanilla extract. Mix again.
Add flour, salt, and baking soda; mix well.
Pour into greased 8x8 pan.
*Bake at 375F for 20-25 minutes until a toothpick inserted in the center comes out clean. Cool completely before frosting. (See note)
Frosting
Cream butter and confectioner's sugar together until smooth.
Slowly add the heavy cream; stir until smooth.
Stir in the vanilla bean paste until fully incorporated. Spread on cooled cake.
Notes
*Bake at 350F if using a glass pan.
Recipe doubles well to fit in a 9x13 pan.
**Here's the general rule for substituting vanilla:
1 vanilla bean =
1 tablespoon vanilla powder =
1 tablespoon vanilla bean paste =
1 tablespoon pure vanilla extract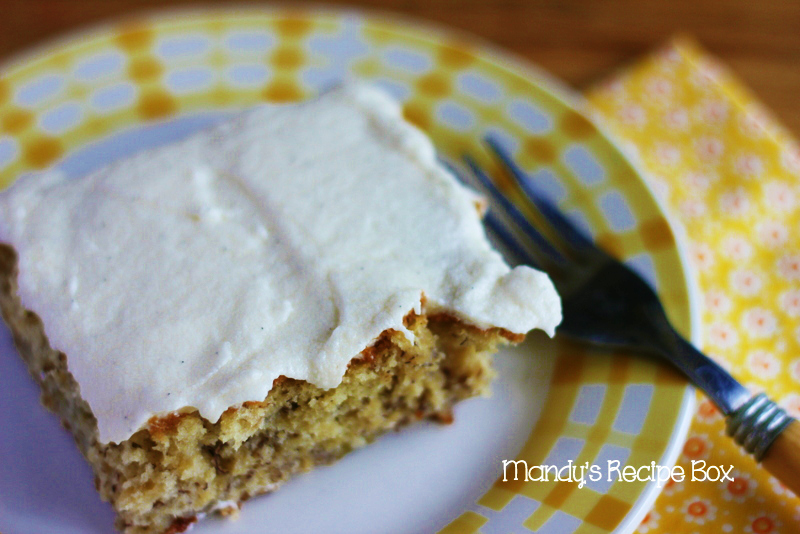 I will never use milk again to make frosting. Never Ever. Only heavy cream for this mama. I can't even describe the amazingly creamy difference.