These cupcakes start out with a box mix and turn into delicious Bakery Style Cupcakes. Topped with a yummy Vanilla Buttercream Frosting, these cupcakes will have everyone wanting the recipe.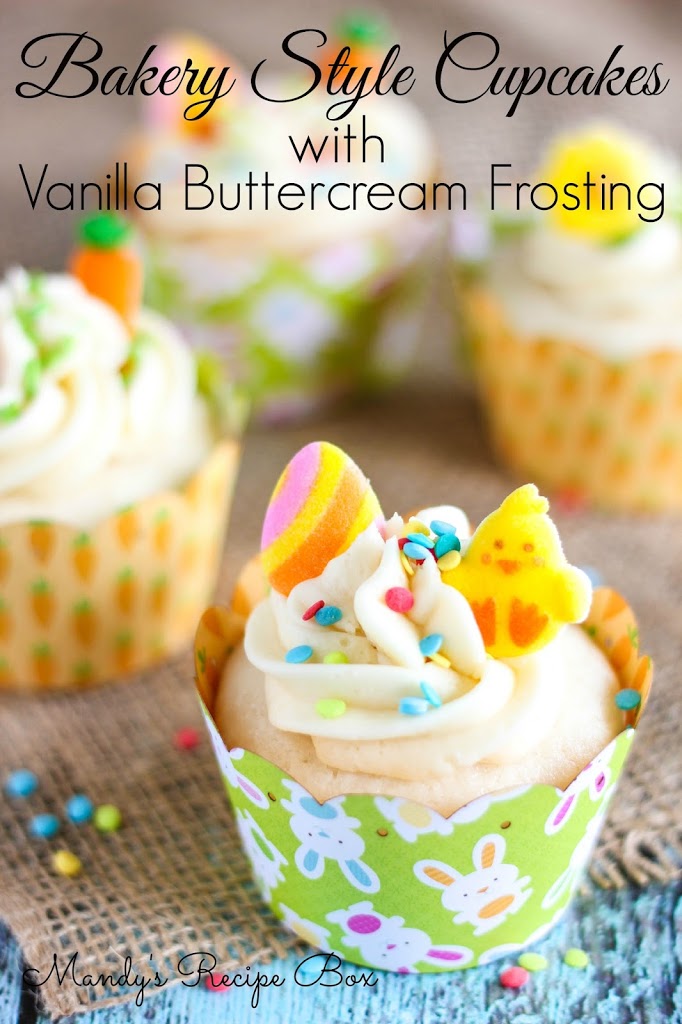 I am one of those weirdos who prefers a store-bought bakery cake or a cake made from a box mix over homemade from scratch cakes. It's just the way it is. I love cakes from Sam's Club and have been known to buy some cupcakes just because I wanted them. Not for any special occasion.
I went to one of my nephew's birthday parties and one of his other aunts had mad the birthday cake. It tasted like it came from a bakery and I immediately asked her for the recipe, which I am sharing with you today. This makes about 36 cupcakes. I have also made it in a
Jelly Roll Baking Pan
(10x15x1) and that turned out great as well. I also made a chocolate version with my
Chocolate Cherry Marshmallow Cake
. Swoon. You can really use any cake mix and then just follow the rest of the recipe. For white cakes, use egg whites and for other cakes use whole eggs. Other than that, it's the same.
P.S. Did you notice all the cute Easter decor on these cupcakes? They come from My Baker's Box and I will tell you more on that after the recipe.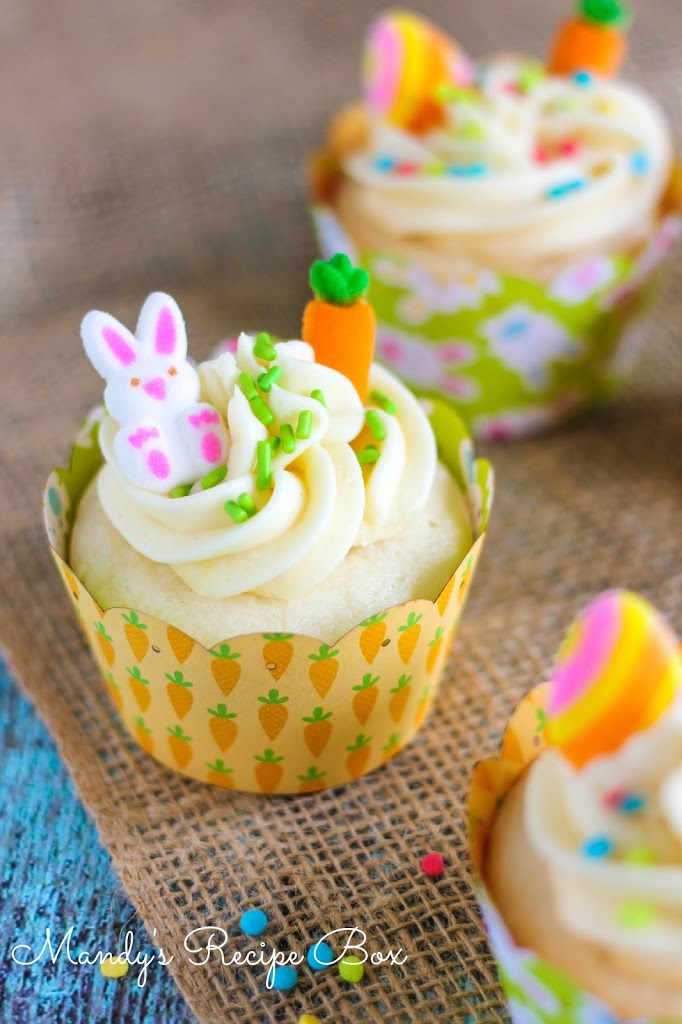 Bakery Style Cupcakes with Vanilla Buttercream Frosting
Ingredients
For the cupcakes:
1 (18.25 oz) white or vanilla cake mix (I used White)
1 cup flour
¾ cup sugar
½ tsp. salt
1⅓ cup water
2 Tbsp. oil
1 tsp. vanilla
1 cup plain yogurt or sour cream
4 egg whites
For the frosting:
1 cup softened butter
3 cups powdered sugar
1 tsp. vanilla extract
1-2 Tbsp. heavy cream
Directions
Preheat oven to 325 degrees F.
Line cupcake pan with cupcake liners. Set aside.
Mix together cake mix, flour, sugar and salt.
Add the water, oil, vanilla, yogurt or sour cream and egg whites; mix 2 minutes with electric mixer.
Spoon into cupcake liners about ¾ full.
Bake 18 minutes until done.
For the frosting, combine all ingredients in a bowl and mix with a hand mixer until smooth.
Pipe or spread onto cupcakes. If piping, you may need to double or triple this recipe. I piped mine on and it did about 12 cupcakes.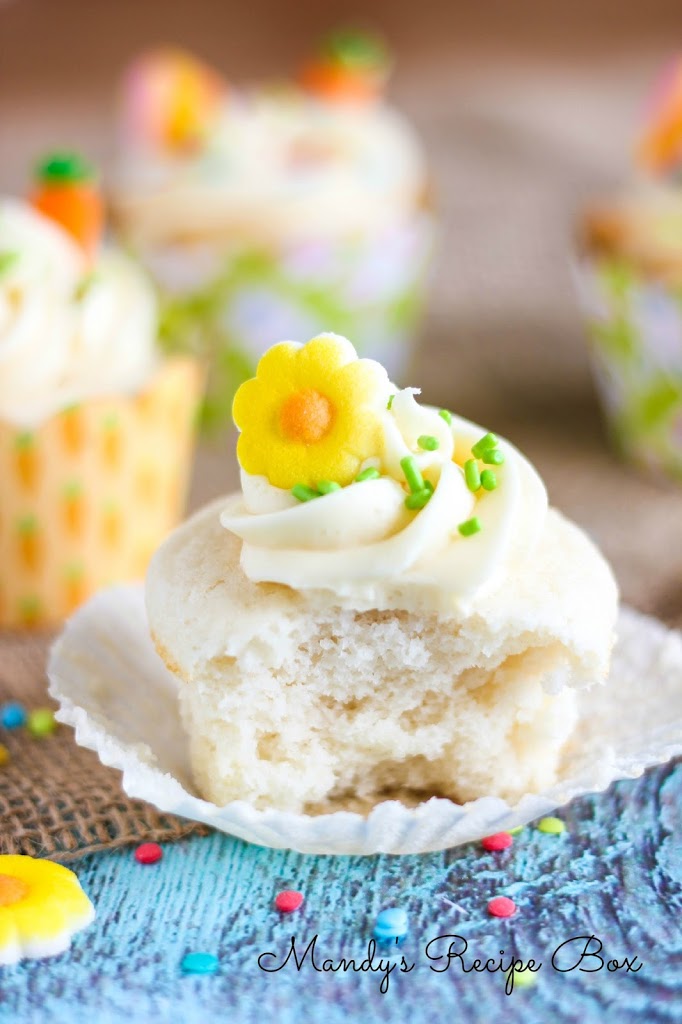 Now for the cute stuff! My Baker's Box is a company that mails you baking supplies right to your door each month. You can sign up for 1, 3 or 6 months and there's free shipping! 
Look how cute the April box was: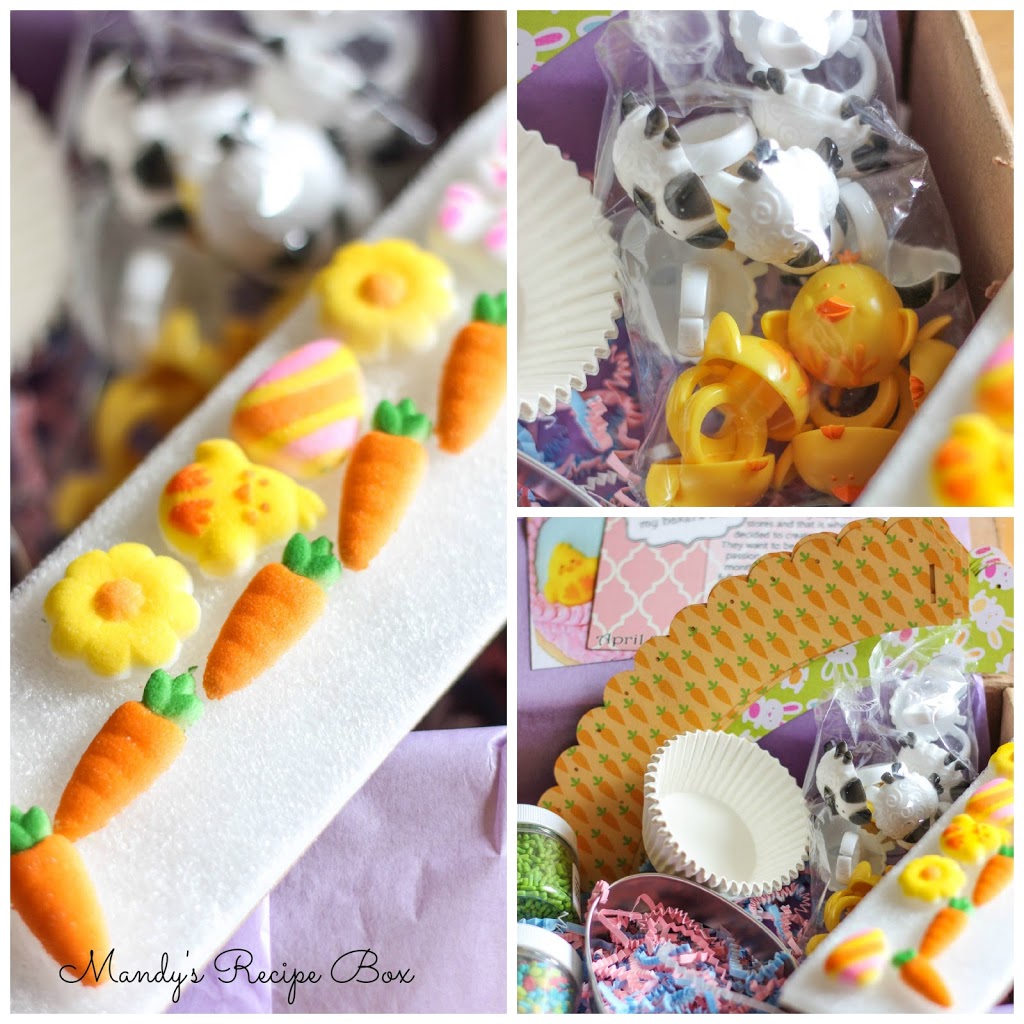 Cute sugar toppers in chicks, carrots and flowers; cupcake liners, cupcake wrappers that are reversible, sprinkles, egg-shaped cookie cutter, and chick and sheep rings. There also comes in each box a recipe idea for the items. So much fun packed into each box! 
You may also like these recipes…
Or these from the web:
Caramel Apple Cake
Fresh Orange Cake with Orange Vanilla Bean Icing
Red Velvet Sour Cream Bundt Cake