The classic Monkey Bread gets a new spin. Apple Monkey Bread with apples all thoughout. You family will flip for this easy dessert.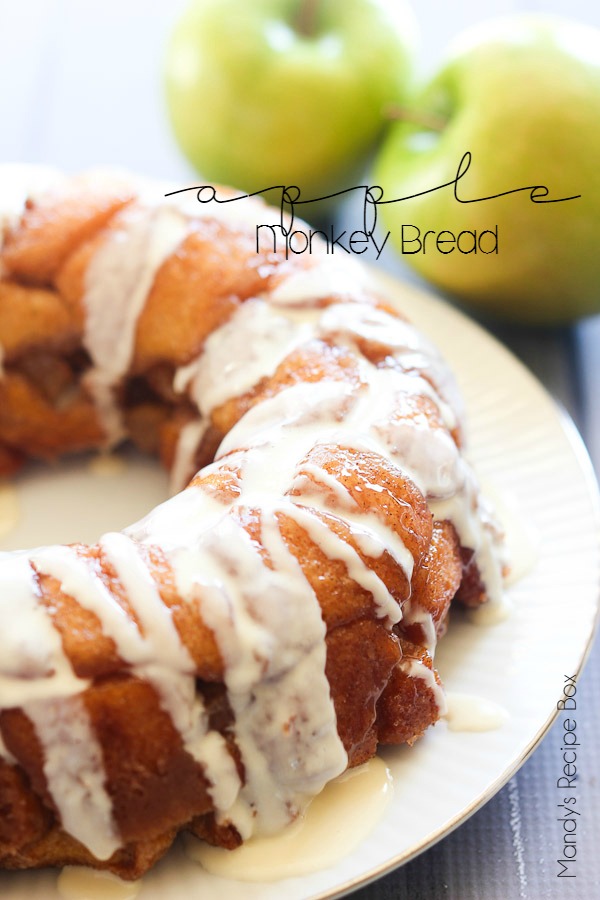 My 2-year-old son loves donuts. Loves them. For his birthday breakfast he wanted donuts. He got donuts for breakfast as you can see in this Instagram photo. He will walk over and open the cupboard under the kitchen sink where the paper towels are attached to the door and pull one off. Then he grabs his Elmo bib and puts it on and climbs up onto a chair at the table, sets his paper towel on the tables and says, "A donut" and pats the paper towel. I cannot resist him. He wins every time. I buy mini donuts so it's just a little snack rather than a whole big donut.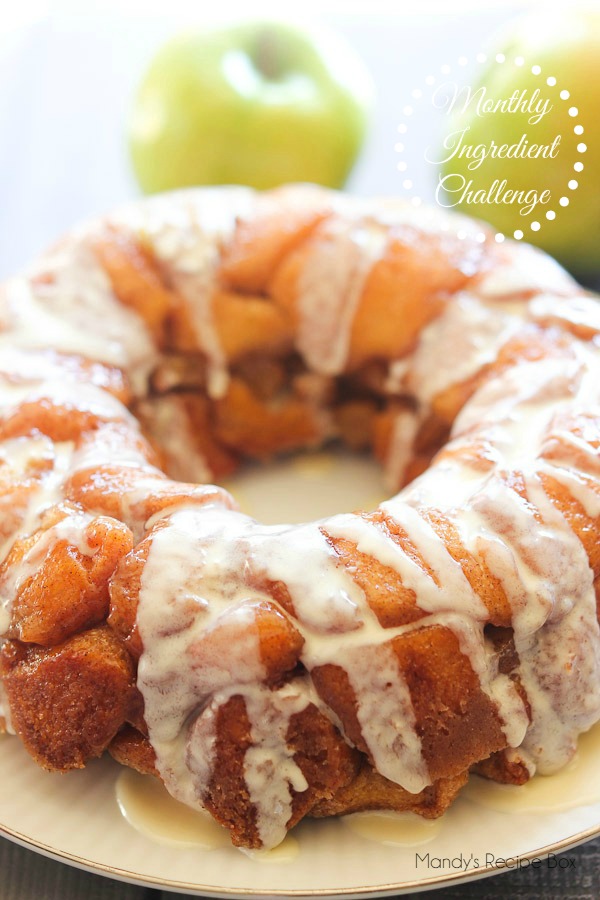 When I made this Apple Monkey Bread, my little guy took one look at it and said, "Donut!" He was so excited to see this big "donut". And can you blame him? I made this for the Monthly Ingredient Challenge that I am a part of. Last month's ingredient was cilantro and I made this Avocado Cilantro Dip. This month's ingredient is apples. Um, obviously. I used my Monkey Bread recipe and just added apples to it. Make it and you'll love it. Be sure to double it because it will be gone in a flash.


Apple Monkey Bread
Ingredients
For the Biscuits:
2 cans refrigerated biscuits
⅔ c. sugar
½ tsp. cinnamon
1 Granny Smith apple, peeled, cored and diced
For the topping:
¾ stick butter
½ c. sugar
½ tsp. cinnamon
Directions
Preheat oven to 350 degrees F. Spray a bundt pan with non-stick cooking spray and set aside.
Cut each biscuit into fourths.
Mix the sugar and cinnamon together in a bowl. Add the cut biscuits to it a few at a time and toss to coat.
Place half of the sugar coated biscuits into the bundt pan.
Toss the apples in the remaining sugar mixture. Sprinkle them over the biscuits in the pan and cover with the other half of biscuits.
In a saucepan, melt together the butter, ½ cup sugar and ½ tsp. cinnamon. Stir and bring to a boil; pour over the biscuits.
Bake for 30 minutes.
Remove from oven and let sit in pan for 1 minute before inverting onto a plate.
Drizzle with your favorite icing.
Be sure to check out the other recipes from other bloggers:
Loading InLinkz ...