Apple Cake with Vanilla Caramel Sauce is a perfectly comforting dessert. Served warm, it tastes like heaven on a plate.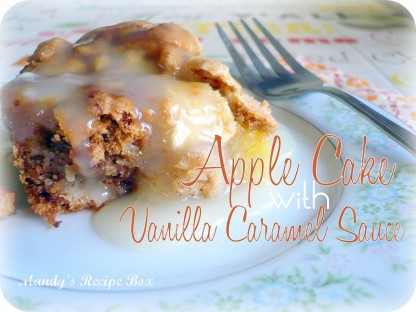 Hooray for Fall! I love the changing of the seasons. I love the cool nights when I don't quite need the heater on, but still has a chill in the air. I love that I don't need my AC on anymore. Just perfect weather. This is when I break out all those comfy cozy recipes. Soups, stews, hearty warm dishes are what I love about Fall. Like this dessert. It is best served warm with the Vanilla Caramel Sauce drizzled on top-it can't be beat. I love it more than my
Pumpkin Cake with Cider Caramel Sauce
, which is amazing. You could use this sauce on the Pumpkin Cake if you wanted to . You can also add walnuts to either cake, though I leave mine without.
This recipe came from our neighbor lady when we first moved into our new home when I was 14. She brought it over as a welcoming gift. I ate my piece and walked right over to her house to ask for the recipe. That's the foodie in me. I had to have that recipe. She gladly shared it and I'm forever grateful to Mrs. Halverson, wherever she is.
The first time I make this cake each season, I always end up having two pieces. Why I don't just start with a large piece, I don't know. You'll end up doing the same. The top gets a little crust on it and the inside is so moist and warm.
Apple Cake with Vanilla Caramel Sauce
Ingredients
For the cake:
4 cup peeled and diced apples (I used Golden Delicious)
2 cup sugar
½ cup oil
2 beaten eggs
2 tsp. vanilla extract
2 cup flour
2 tsp. baking soda
2 tsp. cinnamon
1 tsp. salt
For the sauce:
¼ cup cup butter
¾ cup sugar
1½ cup water
2 Tbsp. flour
1 tsp. vanilla extract
Directions
For the cake:
Put the apples and sugar into a large bowl; stir to coat the apples.
Add the oil, eggs, and vanilla; stir all together.
Add the flour, soda, cinnamon, and salt; stir together.
Pour into a greased 9x13 baking dish.
Bake at 350 degrees for 35-40 minutes until done.
For the sauce:
Melt the butter in a sauce pan on medium heat.
Add the rest of the ingredients, whisking to remove lumps.
Cook until it bubbles.
Remove from heat or turn to low to keep warm.
Serve over cake.
Notes
I sometimes cut the cake recipe in half and bake in a square dish or 11x7 dish. Works great. Refrigerate leftover cake and sauce. Warm up before serving. Feel free to add a dollop of whipped cream!